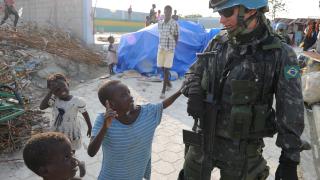 On 21 September 2018, the Security Council unanimously passed resolution 2436 stressing the need to improve behaviour, leadership and accountability in peacekeeping.
The document reaffirms the Council's support for improving peacekeeping performance and requests the Secretary-General "to act with urgency" to initiate investigations into poor performance. It also highlights the need for peacekeeping missions to have accountable leadership.
UNA-UK welcomes the resolution. Improving performance in this way will also improve the UN's ability to respond to the issue of sexual exploitation and abuse (SEA) in UN Peacekeeping. Specifically, the resolution could strengthen the ability of the Department of Peacekeeping Operations, acting for the Secretary-General, to use objective appraisals of performance to turn down offers of troops from Troop Contributing Countries (TCCs) that do not demonstrate willingness and ability to prosecute troops that commit sexual crimes – a key strand of UNA-UK's Mission Justice campaign.
In 2017 UNA-UK launched 'Mission Justice' to combat the issue of sexual violence in UN – an issue which must be addressed for moral, legal and credibility reasons. The three principles of Mission Justice are clarity over responsibility for investigation, prosecution as the end goal and having no peacekeeper above the law. To implement these principles, Mission Justice belives only countries which are able and willing to investigate and where necessary, prosecute, acts of sexual violence should be considered fit to contribute personnel to UN peacekeeping.
More info on this issue can be found here.