You are here: UNA-UK mourns the passing of Lord Frank Judd
21 April 2021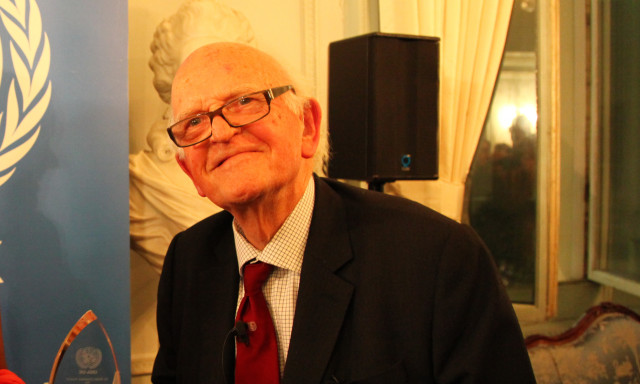 It is with deep sadness that UNA-UK mourns the loss of the brilliant Lord Frank Judd, a lifelong internationalist and advocate for the UN who died this weekend aged 86.
Lord Judd leaves behind a legacy of tireless dedication to international peace and justice; from his work in the voluntary sector, including as Secretary-General of Oxfam, as an MP and Foreign Office Minister, and his active role in Parliament after becoming a Life Peer in 1991. 
We are extremely proud Lord Judd was a prominent lifelong member of UNA-UK, and were honoured to present him with the Sir Brian Urquhart Award for Distinguished Service in 2017. He played an important role within UNA-UK and on UN issues throughout his life, from being the President of the UN student association in Britain during his university days, to his highly active participation in the United Nations All-Party Parliamentary Group until his death.
Lord Stewart Wood, Chair of UNA-UK, said:
Natalie Samarasinghe, Executive Director of UNA-UK, said:
Ben Donaldson, Head of Campaigns at UNA-UK, said:
Watch UNA-UK's interview with Lord Judd: