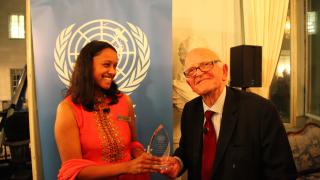 It is with deep sadness that UNA-UK mourns the loss of the brilliant Lord Frank Judd, a lifelong internationalist and advocate for the UN who died this weekend aged 86.
Lord Judd leaves behind a legacy of tireless dedication to international peace and justice; from his work in the voluntary sector, including as Secretary-General of Oxfam, as an MP and Foreign Office Minister, and his active role in Parliament after becoming a Life Peer in 1991. 
We are extremely proud Lord Judd was a prominent lifelong member of UNA-UK, and were honoured to present him with the Sir Brian Urquhart Award for Distinguished Service in 2017. He played an important role within UNA-UK and on UN issues throughout his life, from being the President of the UN student association in Britain during his university days, to his highly active participation in the United Nations All-Party Parliamentary Group until his death.
Lord Stewart Wood, Chair of UNA-UK, said:
Frank was a hero for many who believed in the values of social justice and internationalism. In his long career in and outside party politics, Frank fought for compassion and solidarity with a distinctive combination of ferocity, courage and kindness. And he always had an encouraging word (and wrote many an encouraging letter) for younger colleagues. He was an inspirational figure in British public life.
Natalie Samarasinghe, Executive Director of UNA-UK, said:
Lord Judd was an incredible advocate for the UN and for UNA-UK for many decades and a leading member of the All-Party Parliamentary Group on the UN. Since the start of this millennium, Lord Judd accounted for over 10 percent of all mentions of the UN in the House of Lords – a huge proportion. He made nearly 1,500 speeches in the House, most of them on global issues, and triggered 882 written answers from ministers.

At a time when the role of peers is once again under scrutiny, it's important to celebrate people like him, who exemplified the crucial work of our second chamber. His efforts supported charities, MPs and members of the public, in ensuring their concerns are heard, and in taking a longer-term view of the challenges we face. Moreover, his steadfast support for the UN and international cooperation has been a huge source of encouragement and inspiration to us at UNA-UK, and to our members around the country. 

Frank was proof that principles and politics can go together, and that kindness is the best force for change. We will really miss him.
Ben Donaldson, Head of Campaigns at UNA-UK, said:
Getting to know Frank Judd over the last decade and working with him on a raft of foreign policy issues has simply been one of the greatest honours and joys of my professional life. His ceaseless commitment to the United Nations, multilateralism and peace energised the UNA staff team, the wider UNA network and the UK peace movement more broadly. Although uncompromisingly principled, his was not a starry-eyed approach. The prolific contributions he made to Parliament were practical, rigorous in their analysis and always addressing the bigger picture. UK Parliament was a richer place for his well-informed and sharply argued global outlook - I know I will continue to draw from his encouragement and the lessons he taught me for many, many years to come.
Watch UNA-UK's interview with Lord Judd: