You are here: UNA-UK celebrates United Nations Day 2017 at the Swedish Embassy
25 October 2017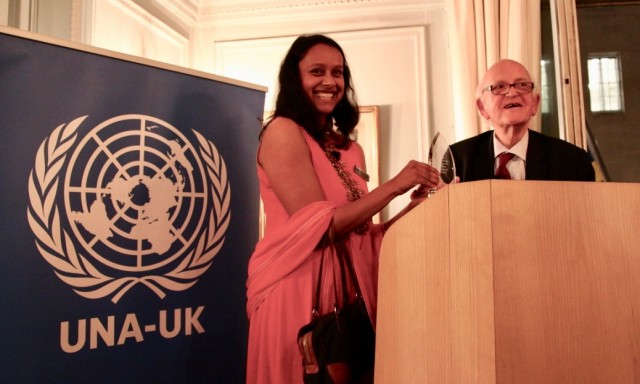 As part of UNA-UK's UN Day event, UNA-UK's Executive Director was delighted to award this year's Sir Brian Urquhart Award for Distinguished Service to Lord Judd of Portsea for his tireless efforts supporting international cooperation. 
UNA-UK would like to thank the Embassy of Sweden in London for partnering with us and hosting this year's UN Day celebrations, held on 23 October 2017.
UN Day reception 
After a warm welcome speech from the Swedish Ambassador to the UK, Mr. Torbjörn Sohlström, UNA-UK Chairman Lord Wood delivered a short introduction to UN Day and UNA-UK's current campaigns "Keeping Britain Global" and "Mission Justice". 
Before the presentation of the Sir Brian Urquhart Award, State Secretary to the Minister of Foreign Affairs, Annika Söder, gave a keynote speech in which she recognised the work of UNA-UK, and the success of its "1 for 7 Billion" campaign that led to a more transparent process when UN Secretary-General António Guterres was appointed.
Ms Söder, who has worked on UN issues in various executive positions, reflected on the Organisation's purpose and potential:
Ms Söder went on to remark that "while we must recognise the achievements made by the UN, we much also take action on its deficiencies in order to make more people realise how important multilateral cooperation is". Commenting on the Secretary-General's agenda, Ms Söder noted that António Guterres has come forward with "great proposals that we hope he will be able to implement".
As a proponent of feminist foreign policy, Ms Söder spoke about the role Sweden played in articulating this approach, and how – far from being the barrier they expected – championing the global role of women allowed them to win one of the ten coveted elected seats to the UN Security Council. She spoke about how Sweden works closely with the UK to instil feminism into the work of the Security Council, in particular by chairing the informal group on Women Peace and Security. She also suggested that "our close friends" should "step up a bit" when it comes to passing resolutions on the international community's approach to women, peace and security.
These remarks were followed by an address by Lord Ahmad of Wimbledon, Minister of State for the United Nations. This is the first time a Minister of State has attended UNA-UK's UN Day event. Lord Ahmad reaffirmed the UK's commitment to the United Nations, stating that "it is important that we recognise the incredible contribution the UN makes". He also underlined the UK's important relationship it shares on a bilateral basis with Sweden. 
On UN reform, Lord Ahmad stressed that it is important to acknowledge reform as "constructive and progressive". Whilst commenting on the UN Secretary-General's reform agenda, Lord Ahmad pointed to Guterres' reform work on peackeeping and sexual exploitation and abuse (SEA) as "not only valid, it's the right thing to do".
Lord Ahmad went on to reaffirm the UK's support for Sweden's feminist foreign policy agenda:
The Sir Brian Urquhart award 
The Sir Brian Urquhart Award was presented to Lord Judd by UNA-UK Executive Director Natalie Samarasinghe, who also spoke about the importance of the UN at a time when global issues transcend national borders. Natalie emphasised the need to turn our attention away from debates on whether we need the UN and towards how we make it work better. To boost public support for the UN, Natalie proposed for UN Day to become a day when the Government reaffirms its commitment to the UN and when school children learn about the Organisation. 
Natalie noted that this year, when strengthening support for the UN is more important than ever, the Sir Brian Urquart Award should honour an individual who has been an incredible advocate for the UN. 
And so it is fitting that this year's recipient, Lord Judd, has worked across the voluntary sector, Labour Party, Government and Parliament championing the work of the UN. He became Secretary-General of International Voluntary Service in 1960, going on to be Director of Voluntary Service Overseas (1980-85) and Oxfam (1985-91). Lord Judd was made a life peer in 1991 and has been an MP for Portsmouth West and Portsmouth North (1966-79) and served as Minister of State at the Foreign & Commonwealth Office from 1976-79. He has been active in a number of committees, as well as the UN All-Party Parliamentary Group, and continues to be involved with a range of charities, including UNA-UK. 
Since the start of this millennium, Lord Judd has accounted for over 10 per cent of all mentions of the UN in the House of Lords, has made nearly 1,500 speeches in the House, most of them on global issues, and triggered 882 written answers from ministers.
In his acceptance speech, Lord Judd thanked UNA-UK for the honour and spoke in greater detail about his work and commitment to the cause of international cooperation. In underlining the need for multilateralism in the face of increasing crises across the globe, Lord Judd reiterated the need for rebuilding hope and trust in the United Nations: