You are here: UNA-UK hosts unprecedented debates with UN Secretary-General candidates
13 April 2016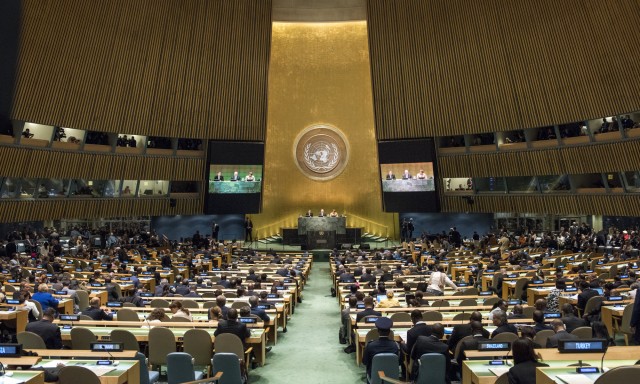 For the first time in history, candidates competing to be next UN leader will take part in public debates as the current Secretary-General, Ban Ki-moon, prepares to step down at the end of 2016.
The debates – to be held in New York and London – will see candidates going head-to-head, answering questions from members of the public and journalists.
Organised by UNA-UK in partnership with the Guardian and the Future United Nations Development System project, the first debate will take place from on 13 April at New York's Civic Hall. Confirmed participants include:
Natalia Gherman, Moldova's former Deputy Prime Minister and Minister of Foreign Affairs
Igor Lukšić, former Prime Minister of Montenegro
Vesna Pusić, Croatia's Deputy Prime Minister and Minister of Foreign Affairs; and
Danilo Türk, former President of Slovenia.
Click here to see the full list of confirmed candidates
All candidates have been invited to take part and those not able to make the first debate will be invited to the second event, which will be held on 3 June in Central London – where the first UN Secretary-General, Trygve Lie, was appointed 70 years ago. More information about the London debate will be available soon.
The debates will include pre-submitted questions from the global public through a worldwide poll coordinated by Avaaz and Global Citizen, as well as live questions on the night.
For the past 70 years, the UN Secretary-General has been chosen in secret, in a process dominated by the permanent members of the Security Council. The upcoming debates mark a major success for UNA-UK and our 1 for 7 Billion campaign, which is calling for a fair, open and inclusive appointment process.
More on Secretary-General debates, 1 for 7 Billion