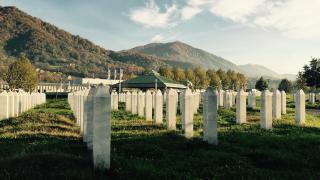 Following 11 months of deliberation the International Criminal Tribunal for the former Yugoslavia (ICTY) has found Ratko Mladić guilty of genocide and war crimes for some of the worst atrocities perpetrated during Bosnia's 1992 - 1995 war.
The United Nations' Yugoslav war crimes tribunal, established in 1993 during the war, has found the former commander of the Bosnian Serb army Ratko Mladić guilty of 10 out of 11 counts of genocide and war crimes during the 1990s Balkans conflict.
Among these charges, Mladić was found guilty for commanding forces responsible for the 1995 massacre in Srebrenica, which saw the murder of over 8,000 Muslim men and boys along with the mass rape of Bosniak women and girls. 
UN High Commissioner for Human Rights Zeid Ra'ad Al Hussein welcomed this conviction as a "momentous victory for justice", hailing the verdict as a "warning to the perpetrators of such crimes that they will not escape justice, no matter how powerful they may be nor how long it may take. They will be held accountable". Lord Ashdown, the former High Representative for Bosnia and Herzegovina from 2002 to 2006, also highlighted the signficance of the ruling, stating that "those in Bosnia who understand there is no peace without justice can now look more confidently to the future".
Following 530 trial days and 10,000 pieces of evidence examined, the court's judgment represents a landmark moment for the ICTY given the severity of atrocities committed and the duration and scale of the trial. Mladić's trial was the last before the tribunal closes in December.
Photo: Srebrenica Genocide Memorial/Laurel Hart