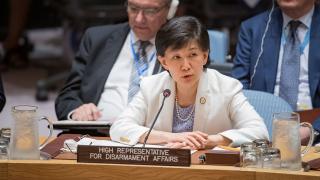 The All-Party Parliamentary Groups on the UN and on Global Security and Non-Proliferation were delighted to host Izumi Nakamitsu, UN High Representative on Disarmament Affairs, in a meeting chaired by Lord Hannay on Monday 22 January.
Ms Nakamitsu used the occasion to highlight the close relationship between non-proliferation and disarmament, and spoke of the urgent need for states to build common ground on disarmament, adding that only demonstrable progress towards nuclear weapons states' implementing their obligation under Article 6 of the Non-Proliferation Treaty (NPT) to negotiate in good faith towards disarmament can "ensure the long-term viability of the Treaty".
Regarding the Nuclear Ban Treaty, Ms Nakamitsu explained her message for nuclear armed states: "don't ignore it, don't attack it", but also spoke of the need for supporters of the Nuclear Ban Treaty not to promote divisive counter-narratives that nuclear states are not interested in nuclear disarmament. Member states "must look for common ground rather than focusing on differences", commented Nakamitsu.
Speaking of the critical need for the NPT Review Conference in 2020 to be a success, Ms Nakamitsu urged member states to work together to define a common criteria for success, and begin working on the "thorny issues" immediately.  This includes discussions over the weapons of mass destruction-free zone in the Middle East, which contributed to the failure of the 2015 Review Conference to agree an outcome document.
Ms Nakamitsu ended by saying that the UK, along with other nuclear-weapons states, has a special responsibility to work for the health of the NPT regime, adding that civil society organisations will also play a vital role in building progress on this agenda.