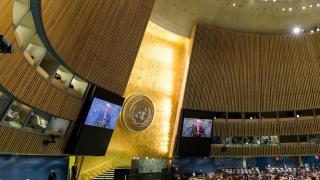 "I am here to sound the alarm." This is how UN Secretary-General António Guterres opened his address to the General Assembly. And he did.
Starting with Covid-19 and the climate emergency, he pointed to the stark choice facing humanity - breakdown or breakthrough - invoking emotion and evidence in equal measure. Inequality was the central theme of his message as he set out six "great divides": peace, climate, wealth, gender, digital and generational.
While he did not quite manage to evoke the exuberance of K-pop superstars BTS, who shone a much-needed spotlight on the need for action to achieve the Sustainable Development Goals, his speech was hopeful. It draws on his new report, Our Common Agenda, which contains some 90 policy recommendations on bridging these divides including a new social contract, better management of the global commons and mechanisms to safeguard future generations.
The report also envisions a repositioning of the United Nations, still at the heart of the international system but as a platform, convenor and provider of data, foresight and accurate information, rather than leading the charge on all fronts. One area it earmarks for greater engagement is the digital space, calling for reclaiming of the digital commons and a global digital compact. It also sets out some proposals for making the UN more inclusive (although UNA-UK would like to see much more in this regard - especially as UN Headquarters is still closed to NGOs). Governments are set to hold a Summit of the Future in 2023 to adopt proposals.
Several leaders took up these themes in their speeches, with vaccine equity, COVID recovery and climate action dominating the agenda. Against this backdrop, the gulf between those states that have the resources to tackle global risks and those who bear the brunt of these challenges was an even stronger undercurrent than usual. In addition to funding and vaccine donations, states call for patent waivers to allow production in low-income countries.
UK Prime Minister Boris Johnson focussed on the climate emergency in his speech, stating:
The Glasgow COP26 summit is the turning point for humanity.
Noting there were just 40 days left until the COP26 climate conference, he called on governments to make commitments in four areas: coal, cars, cash and trees. He thanked China's President Xi for announcing an end to international financing of coal.
China also committed to providing funding for the COVAX facility, in addition to donating vaccines and supporting international development. The United States made significant commitments too - in terms of vaccine funding and donations, and climate finance - with both countries clearly wanting to 'walk the talk' as their speeches emphasised their commitment to multilateralism amidst speculation about the fallout from the Aukus deal.
We will provide a full summary of the General Debate and key events next week.
Read more
Photo: A wide view of the General Assembly Hall as Secretary-General António Guterres (at podium and on screens) addresses the general debate of the General Assembly's seventy-sixth session. c. UN Photo/Manuel Elías