You are here: UNA-UK's CEO shares insight on the first day of UNGA General Debate
23 September 2021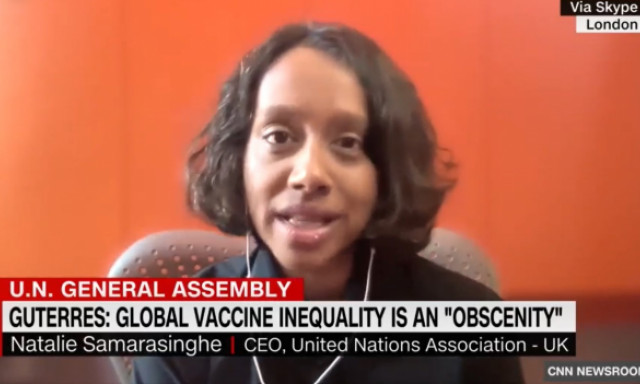 On Wednesday 22 September UNA-UK's CEO Natalie Samarasinghe discussed the opening of the General Debate at UNGA76.
Speaking to CNN about what outcomes we can expect from high-level week she stressed:
She echoed the Secretary-General's message - we must bridge the divides blighting our ability to tackle the big crises we face.
Watch her analysis in full here:
Ms Samarasinghe also discussed the significance of leaders' speeches at UNGA on Monocle 24's the Globalist.
Examining António Guterres' speech, she said:
She also highlighted that while there was a stark, urgent message in the Secretary-General's remarks, there was also hope. In particular policy recommendations from his new report, and a tone that encouraged a shift from crisis mode to targeted action. 
Discussing speeches from President Joe Biden and President Xi Jinping, Ms Samarasinghe noted focus on climate change and Covid-19:
Click here to listen to her full analysis.
Read more