You are here: UK-wide communities help change the way the UN finds its leader
9 March 2016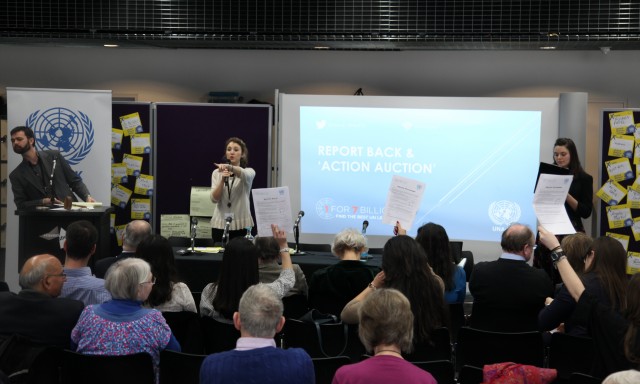 On 5 March 2016, UNA-UK supporters from across the country met for a day of action and debate on one of the UN's most urgently needed reforms - finding the best Secretary-General.
This 'Activist Summit' took place in London's Docklands and saw ordinary people commit to actions to campaign in their own community following an in-depth analysis on how the selection process needs to change.
Morning: debate
In the morning session, participants engaged with intense briefings and debate. Yvonne Terlingen, former head of Amnesty International's UN office in New York, explored the current selection process of the UN leader, one shrouded in secrecy and backroom deals. Ben Donaldson, UNA-UK's Communications and Campaigns Manager then discussed  the progress made by UNA-UK's 1 for 7 Billion campaign in making the system more open and inclusive.
After the briefings, participants grilled a panel of experts on why and how the selection process should be changed. Panellists included: Edward Mortimer, former Chief Speechwriter and Director of Communications for the Executive Office of the UN Secretary-General; Dr Kirsten Haack, Senior Lecturer in International Politics; grassroots activist Viv Williams and Yvonne Terlingen.
Afternoon: action
Following an introduction to campaigning from Isabelle Younane, UNA-UK's Campaigns and Communications Officer, participants spent the afternoon creating ideas on how to engage members of their own community in the 1 for 7 Billion campaign. These ideas included: organising a social media storm; holding an information stall at a local fair; and engaging faith leaders, MPs and CEOs in the campaign. 
The ideas formulated by participants were then recast as 'lots' in a unique 'action auction'. Participants had the opportunity to 'bid' for the actions to which they wanted to commit to undertaking in their local communities.
Over the coming weeks, UNA-UK will be in touch with the participants who committed to a campaign action and the outcomes will be reported on. 
Click here to download the 1 for 7 Billion action handbook, which incorporates ideas generated on the day
Click here for photos of the event.