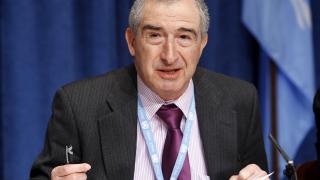 It is with a deep sense of loss that UNA-UK mourns the passing of Professor Sir Nigel Rodley KBE LLB, a lawyer and academic who championed the cause of human rights and a long-time advisor and supporter of our Association. For over 25 years he was one of the most effective members of the UN's human rights organs, and one of a very small number of Britons to hold such a position. Sir Nigel passed away in the early hours of 25 January 2017.
Few people can match the experience and credibility of Sir Nigel. He started his academic life with an LLB from the University of Leeds in 1963, and subsequently earned LLMs from Columbia University in 1965 and from New York University in 1970. He received a PhD from the University of Essex in 1992. He started teaching at Dalhousie University, Canada, in 1970. In 1973 he founded the legal office of Amnesty International, and acted as its head for the first 27 years of its existence. He spent that time attached to the London School of Economics and transferred to Essex University in 1990 where he has been based ever since. Alongside the late Professor Kevin Boyle, Sir Nigel can take credit for bringing Essex University's human rights programme to global prominence. He chaired the university's Human Rights Centre since 2003.
From 1993 to 2001 he served as UN Special Rapporteur on Torture. He was the first British citizen - and indeed the first citizen from any permanent Security Council member - ever to become a Special Rapporteur for a thematic mandate. From 2001 to 2016 he served as a member of the UN's Human Rights Committee, the body of legal experts that oversees compliance with the International Covenant on Civil and Political Rights, the UN's preeminent human rights treaty. From 2013-14 he acted as the Committee's chair.
He was heavily involved with putting human rights law into practice. He was a commissioner for the International Commission of Jurists for 13 years (and President for the last four), a trustee of the Medical Foundation for the Care of Victims of Torture for 12 years, a member of the UK Foreign and Commonwealth Office Expert Panel on Torture for 19 years, and was also the Chair of the Board of Trustees of the International Centre for Prison Studies.
He served on Sri Lanka's International Independent Group of Eminent Persons (IIGEP). This panel was established in 2007 to provide international oversight for the Sri Lankan Government's attempts to investigate human rights violations. The IIGEP soon found that the Government was making it impossible for them to carry out their work and in 2008 they resigned en masse. The difficult task of explaining to the public both why the members of the IIGEP had agreed to participate in such an endeavour, and why they felt they had to resign, largely fell to Sir Nigel who formulated a typically principled and eloquent response.
He wrote several of the key textbooks for students of human rights, among them, The Routledge Handbook of International Human Rights Law (co-edited with Scott Sheeran) and The Treatment of Prisoners under International Law (later editions with Matt Pollard).
He was a warm, generous and supportive friend to UNA-UK, and to many of our staff, and we were proud to list him on our website as a policy advisor. He was an instrumental contributor to our work on strengthening the UN's human rights mechanisms, in particular our advocacy ahead of the creation of the Human Rights Council and on greater support for UN special rapporteurs. He was also a strong supporter of our education work in universities and schools. For Human Rights Day 2012, UNA-UK asked our members and supporters to show their appreciation for the four British citizens working as independent human rights experts within the UN system, including Sir Nigel. Over 230 people did so, and with typical humility, Sir Nigel was deeply touched.
More recently, Sir Nigel spoke at a UNA-UK expert roundtable on reforming the UN Human Rights Council and his typically fascinating and spirited interjections will be reflected in our work for a long time to come.
Sir Nigel was a powerful advocate for human rights who pushed for the UK and its citizens to be actively involved in global affairs. At this time of political turmoil, his legacy of integrity, insight and credibility serves as an exemplar for the kind of role that Britain could play on the global stage. He will be sadly missed.