You are here: Your UN Secretary-General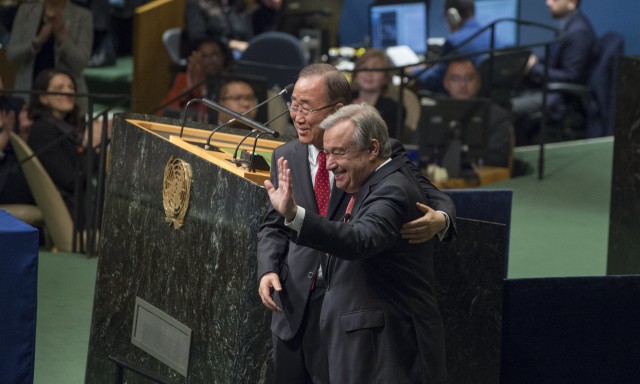 In 2013, UNA-UK co-founded the 1 for 7 Billion campaign for a more open, inclusive and – above all – merit-based process to find the best possible person to lead the United Nations and represent the hopes of the world's seven billion people. We believe that our campaign succeeded.
The new selection process enabled strong candidates to shine and piqued global interest in the UN – nearly 200 million people joined our movement. And the eventual appointee is a seasoned diplomat, with a strong track record in management and a reputation for speaking truth to power. Below, we summarise his background for our readers:
António Manuel de Oliveira Guterres was born in Lisbon in 1949. He graduated from the Instituto Superior Técnico with a degree in engineering.
He was UN High Commissioner for Refugees (UNHCR) from 2005 to 2015, heading one of the world's foremost humanitarian agencies with approximately 10,000 staff working in some 125 countries. His tenure coincided with the biggest global displacement crisis since records began, as the number of people forced to flee their homes rose from 38 million to more than 60 million in a decade.
During this time, Guterres oversaw a tripling in UNHCR's activities as well as profound organisational reforms: paring back staff at its Geneva headquarters and locating them closer to the point of need; raising money from new sources, including the private sector; and diverting funding from administration to operations. He is credited with increasing UNHCR's cost effectiveness and emergency response capacity. Under his watch, the agency became one of just a handful of UN entities to reach gender parity in senior positions.
Before joining UNHCR, Guterres spent some 30 years in government and public service. He was first elected to the Portuguese Parliament in 1976 and served as Prime Minister from 1995 to 2002, during which time he was heavily involved in the international effort to resolve the crisis in East Timor. As President of the European Council in 2000, he co-chaired the first European Union-Africa summit. From 1981 to 1983, he was a member of the Parliamentary Assembly of the Council of Europe, where his roles including chairing the Committee on Demography, Migration and Refugees. He was also active in the Socialist International, serving as its President from 1999 to 2005.
He is currently a member of the Club of Madrid, a leadership alliance of democratic former presidents and prime ministers from around the world. He is fluent in Portuguese, English, French and Spanish.
View UNA-UK's priorities for the new Secretary-General
Photo: Incoming Secretary-General António Guterres Takes Oath of Office. Copyright UN Photo/Rick Bajornas