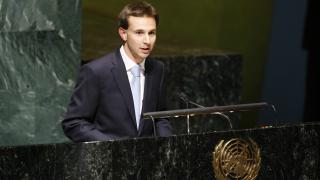 The young professionals programme (YPP) is a recruitment initiative that brings new talent to the United Nations through an annual entrance examination. 
The YPP is designed to facilitate the access of entry-level professionals with diverse backgrounds into the Organisation. 
British nationals and the YPP
The UK is not at present eligible for the YPP scheme and so British nationals are currently not able to apply for this programme. However, if you are also a national of another country (i.e. dual national) that is participating in the YPP, then you may be able to apply for the programme as a national of that country. 
More information can be found on the YPP section of the UN Careers website.
Disclaimer
UNA-UK is not an office of the UN and receives no funding from the UN system. We are not involved with UN recruitment processes and beyond guidance we provide, we cannot help you secure a job at the UN.
However, UNA-UK does employ permanent members of staff and hosts volunteers at its London office. Find out more about employment and internship opportunities with UNA-UK here.
Stay up-to-date with UNA-UK opportunities, activities, campaigns and events by becoming a UNA-UK supporter.
Photo: 2011 International High School MUN Conference, copyright UN Photo 12 May 2011.