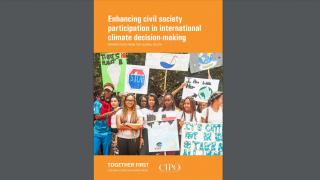 In this report Authors Adriana Erthal Abdenur and Nayifa Nihad look at civil society's vital contributions to climate advocacy and action, and the huge untapped potential for deeper UN-civil society collaboration which must be addressed if the international community is to tackle the twin crises of climate breakdown and biodiversity loss. 
Launched to coincide with COP26, "Enhancing civil society participation in international climate decision-making: perspectives from the Global South" is part of an ongoing series of expert reports on global governance reform by the Together First coalition, which is coordinated by UNA-UK. This report was produced in collaboration with Plataforma CIPÓ, an independent, women-led policy institute focusing on climate, governance, and peacebuilding in the Global South.
The report draws on analysis of official documents and interviews with key stakeholders, especially climate activists from Global South organizations, to identify barriers to effective participation in UN climate processes and make proposals for improving the institutional setup.