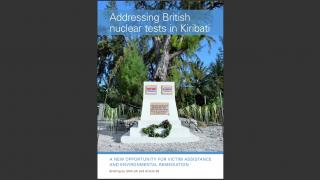 In this report Ben Donaldson (UNA-UK), Elizabeth Minor (Article 36), Dr Becky Alexis Martin and Dr Matthew Breay Bolton set out on the harm caused by the UK's tests in Kiribati in the context of new opportunities for recognition and remediation, given Kiribati's role as a state party to the Treaty on the Prohibition of Nuclear Weapons (TPNW). 
From 1952 to 1991 the UK undertook 98 nuclear weapon tests internationally including 45 explosive nuclear weapon tests, as well as 29 minor trial series and facilitation of a further 24 tests which took place on British administered and colonised lands. These tests have had long lasting humanitarian and environmental consequences. 
This briefing shares the lived experience and expert contributions from Kiribati islanders. With work under the TPNW bringing a new focus to responding to nuclear legacies, it sets out key ways the UK can contribute to addressing ongoing humanitarian and environmental impacts.