You are here: 10 reasons why 2016 wasn't all bad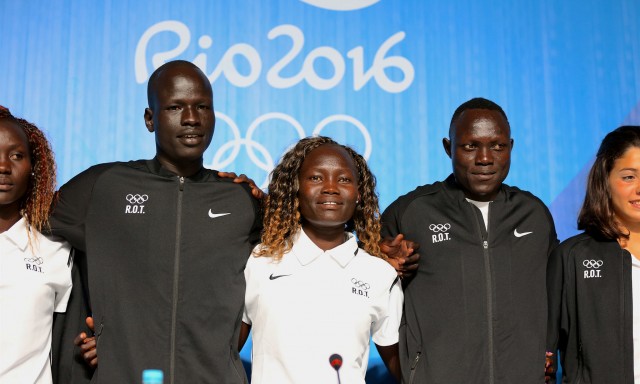 The crises in Syria, Yemen and elsewhere have led to a 20-year high in battlefield deaths and the largest number of people forced to flee their homes since records began. Add to this a string of extremist attacks, natural disasters, the Zika virus and an upsurge in xenophobia and insularity in the US and EU, and it's hard to be cheerful. And that's before reading recent reports that 2016 is on course to be the hottest year ever, and that we've probably already passed the threshold for avoiding a 1.5°C temperature rise.
But gloom must not give way to apathy. The UN continues to make progress on many fronts and it needs support, not hand-wringing. To keep you motivated, here are 10 good things that happened in 2016.
1. Paris Agreement
The historic Paris Agreement on climate change entered into force on 4 November, less than a year after its adoption. 117 states representing nearly 80% of global emissions have ratified the Agreement, which sees all countries, rich and poor alike, agree – for the first time – to undertake ambitious efforts to combat climate change. While US President-elect Donald Trump was reportedly seeking to withdraw from the Agreement, other states, including China, have reaffirmed their support.
2. Peace in Colombia
In June, a ceasefire agreed by Colombia's Government and the Revolutionary Armed Forces of Colombia (FARC) ended the longest-running armed insurgency in the Western hemisphere: 52 years of fighting which saw some 260,000 people killed and millions displaced. Although the subsequent peace deal was narrowly rejected in a plebiscite, a new agreement was reached in November, which puts more emphasis on accountability reparations. A UN mission will continue to monitor the ceasefire.
3. First UN LGBT rights expert
The Human Rights Council appointed Vitit Muntarbhorn, a law professor and human rights practitioner from Thailand, to serve as the first UN Independent Expert on violence and discrimination based on sexual orientation and gender identity. Proposed by a number of Latin American countries, the new role was established despite considerable opposition from Russia, Saudi Arabia and others. Muntarbhorn began work in November after a push by African states to block him.
4. Cultural heritage conviction
The International Criminal Court sentenced Malian extremist Ahmad al-Faqi al-Mahdi to nine years this September for directing attacks against monuments in Timbuktu. The case marked the Court's first prosecution of cultural destruction as a war crime. Concerns are mounting for numerous sites in the Middle East and North Africa, such as the ancient city of Palmyra in Syria, a UNESCO World Heritage site where ISIL has already destroyed temples.
5. UN action on sexual abuse by peacekeepers
The Secretary-General appointed Jane Holl Lute in February to serve as Special Coordinator on improving the UN's response to sexual exploitation and abuse (SEA) by peacekeepers. The following month, the Security Council endorsed his decision to repatriate units when there is credible evidence of SEA and to replace units if their home country has not taken appropriate steps. The UN has limited scope for action as troops remain under the jurisdiction of their own states.
6. States resolve to tackle anti-microbial resistance
At the General Assembly this September, world leaders agreed to address the root causes of anti-microbial resistance. Resistance to antibiotics is now one of the biggest threats to global health. Over- and improper use of antibiotics, along with unfounded fears over vaccine safety – in places from Boko Haram-controlled parts of Nigeria to wealthy suburbs in California – have contributed to the alarming increase in drug-resistant bacteria.
7. Solar-power supergrid switched on
The first section of the Ouarzazate Solar Power Station in Morocco was switched on in February. Due to be completed in 2018, the station is set to be the world's largest, generating 580 megawatts. The project is intended to serve 1.1 million people, with energy to be exported to other parts of the region and Europe. The Climate Action Tracker rates Morocco as "doing its fair share" under the Paris deal.
8. Refugees take part in Rio Games
This year's Olympic and Paralympic Games saw teams of refugees compete for the first time: five runners from South Sudan, three Syrian-born swimmers, two judokas from the DRC, an Iranian discus thrower and an Ethiopian marathoner. The UN High Commissioner for Refugees described their participation as "a tribute to the courage ... of all refugees in overcoming adversity and building a better future for themselves and their families".
9. Largest marine protected area declared
Ross Sea in Antarctica will become the world's biggest marine-protected area following agreement by 24 states – including Russia and the US – in October. It is considered to be the most pristine marine ecosystem, home to some 38% of the world's Adélie penguins, as well as huge numbers of krill – a crucial food for several animals. Environmentalists hope this development will support UN efforts to create a marine biodiversity treaty.
10. The appointment of António Guterres
For many states, UN staff and NGOs, the appointment of António Guterres as UN Secretary-General was one thing that went spectacularly right in 2016. An experienced UN practitioner and diplomat, he was selected following the most transparent process in UN history, which is considered to have played an important part in his appointment. UNA-UK is one of the co-founders of the 1 for 7 Billion campaign that contributed to this historic UN reform.
Photo: Members of the Refugee Olympic Team at the Rio Olympics, 2016. Credit: Andy Miah/CC