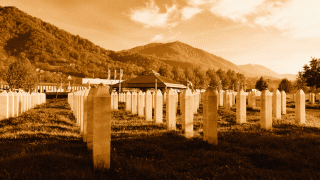 PREVENTING ATROCITIES - AMBER
The UK is a vocal advocate for states responsibility to protect people from atrocities but its approach to preventing and responding to atrocity crimes has been criticised. It can do more. 
This scorecard assesses the UK's performance on key areas using impartial sources. Applying our methodology, we scored the UK amber as its actions are ambiguous.
Our rationale
As a permanent member of the UN Security Council, the UK bears particular responsibility for preventing atrocities. The Foreign Affairs Select Committee has criticised the UK Government's response to atrocity crimes as insufficient and has called for the Government to set out an atrocity prevention strategy, ready for consultation, by April 2019.
Our analysis
Atrocity crimes – genocide, war crimes, ethnic cleansing, crimes against humanity – are morally unacceptable. They can also destabilise regions and the wider world; forcing people to flee their homes, fuelling extremism and organised crime, and disrupting development and trade. From the Holocaust to the latest conflicts, these tragic events shame us all and demand a response.
The UK's record on preventing atrocities is mixed. It has championed the international community's "responsibility to protect" people from such crimes and spoken out about a number of issues at the Security Council, including supporting investigations and referrals to the International Criminal Court. Our concern, shared by experts and commentators, is that the UK only exercises its responsibility to protect when it aligns with its strategic interests, rather than seeing preventing atrocities as the foreign policy priority it should be. 
The UK's lack of a cross-government mechanism for preventing and addressing atrocities in places such as Myanmar and Yemen has exposed the UK to significant criticism and allegations of selectivity – 'cherry picking' where it does and does not act in situations of mass atrocities.
Recent parliamentary inquiries have concluded that the UK has failed to put in place adequate strategies that could have better protected and prevented crises; noting that the UK Government experienced a "manifest failure to protect civilians and to prevent mass atrocity crimes in Syria". FCO officials argue that atrocity prevention already exists in Government policy through its work on conflict prevention and development. This approach risks neglecting the specific characteristics of atrocity crimes: atrocities don't always happen within conflicts, and even when they do, preventing atrocities and de-escalating conflicts require different approaches.
Further, the UK's ongoing arms sales to Saudi Arabia and UAE – both of whom the UN Group of Experts on Yemen concluded may be guilty of war crimes – suggests selectivity in the UK's approach.  A cross-governmental, comprehensive strategy for the prevention of atrocities is key to improving the UK's response to atrocity crimes and in preventing failures like the lack of appropriate action on Myanmar.
Photo: Laurel Hart/Srebrenica Genocide Memorial in Bosnia