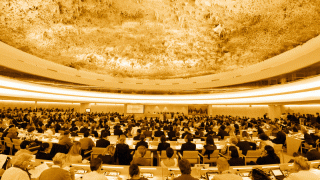 HUMAN RIGHTS - AMBER
The UK has largely been a positive force on the UN Human Rights Council. But inflammatory rhetoric and disdain for human rights mechanisms have marred its record.
This scorecard assesses the UK's performance on key areas using impartial sources. Applying our methodology, we scored the UK amber as its actions are ambiguous.
Our rationale
The UK continues to play an important role on the UN Human Rights Council, with recent successes in relation to combating modern slavery and protecting LGBT+ rights. However, its own conduct and rhetoric with regard to UN human rights officials and mechanisms has often fallen short, attracting criticism from sources such as the UN High Commissioner for Human Rights.
Our analysis
The UK's record in strengthening international human rights mechanisms is mixed. The country has played a crucial role in the elaboration of human rights norms and laws, with UK nationals involved in the drafting and monitoring of UN treaties. It has championed important initiatives at the Human Rights Council (HRC), in areas such as combating modern slavery and LGBT+ rights, and has placed emphasis on human rights issues at the Security Council.
However, the UK has, on occasion, sought to shield allies from criticism and to block action on issues such as drones. It has also been reluctant to "walk the talk" where its own conduct is concerned. During its last HRC peer review, it supported just 42% of the recommendations generated – the global average is 73%, which it justified, inter alia, by stating it felt that signing up to particular international treaties was unnecessary as these rights were already protected in domestic law.
This approach does not take into account the value of UN treaties in helping to raise standards globally, nor the impact that the UK's stance has in encouraging human rights abusers to follow suit. This applies equally to the reception given to UN human rights experts who visit the UK, several of whom have been subjected to personal abuse by politicians and the media.
The overwhelmingly negative debate on human rights is also of concern. It has led to dangerous confusion as to what human rights are and plans to scrap existing human rights protections. For example, the Prime Minister's June 2017 comments that human rights laws should be overturned if they "get in the way" of the fight against terror were strongly criticised by the UN High Commissioner for Human Rights.
Photo: UN Photo/Jean-Marc Ferre/ UN Human Rights Council