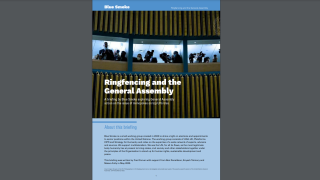 This timely report by Blue Smoke - the working group formed of UNA-UK, Strategy for Humanity and Plataforma CIPÓ - sets out how ringfencing damages the UN's credibility and effectiveness. 
Despite more than 15 UN resolutions since 1980 having called for an end to ringfencing, the practice of appointing individuals from specific states to specific roles continues. The General Assembly has clearly stated that a national of a member state should not succeed a national of that same state. Yet ringfencing is alive and well, blighting the UN system as successive Secretaries-General ringfence roles for the powerful — often for powerful men.
This briefing chronicles the General Assembly's action on ringfencing over the last four decades and offers a blueprint for member states who want to tackle this issue. It sets out recommendations for states to seize the opportunity presented by ongoing negotiations on the General Assembly's Ad Hoc Working Group resolution currently underway.