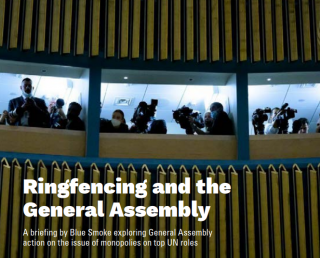 On Monday 22 May the Blue Smoke campaign published Ringfencing and the General Assembly - a briefing exploring General Assembly action on the issue of monopolies on top UN roles.
This timely report sets out how ringfencing -  the continued practice of appointing individuals from specific states to specific roles - damages the UN's credibility and effectiveness and is also a clear contravention of both the general provisions of the UN Charter and specific decisions of the General Assembly. 
Since 1980 more than 15 UN resolutions have called for an end to ringfencing. The General Assembly has also stated that a national of a member state should not succeed a national of that same state. Despite this, ringfencing has blighted the UN system as successive Secretaries-General have ringfenced roles for the powerful — often for powerful men.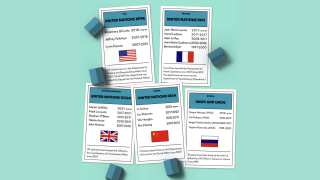 It's one of the UN's worst kept secrets that you must be from the US to get the job of running the prestigious Political and Peacebuilding Affairs office; that you need to be Chinese to lead the Department of Economic and Social Affairs, British to get the humanitarian affairs office, Russian to get the Office of Counter-Terrorism and French to get UN Peacekeeping.  
Since 1980 more than 15 UN resolutions have called for an end to ringfencing.
This briefing chronicles the General Assembly's action on ringfencing over the last four decades and offers a blueprint for member states who want to tackle this issue. It sets out recommendations for states to seize the opportunity presented by ongoing negotiations on the General Assembly's Ad Hoc Working Group resolution currently underway. By building on previous language, the resolution should ask the Secretary-General to publicly explain any deviation from the General Assembly's clear position that such appointments are impermissible. 
Time is of the essence. The next time the General Assembly will pass a resolution on this issue will be late in the 79th session. This golden opportunity to end the ringfencing of certain top UN jobs to powerful states must be seized.
About Blue Smoke
Earlier this year a small working group formed of UNA-UK, Strategy for Humanity and Plataforma CIPÓ launched Blue Smoke - a newsletter produced in partnership with Passblue that shines a light on senior UN appointments and elections. 
We support multilateralism. We see the UN, for all its flaws, as the most legitimate body humanity has at present to bring states, civil society and other stakeholders together under the principles of the Organisation to stand up for human rights, sustainable development and peace.
Despite the UN's official mantra of meritocracy, accountability and fairness, the reality is intense jockeying by member states for their chosen candidates in pursuit of national status and influence. Our goal is that appointments to senior, political, and public roles at the UN are inclusive, merit-based and transparent. 
Read the May issue of the newsletter here.
Read more from UNA-UK on merit-based appointments:
Photo: Report Cover - All eyes on the UN: Photographers in UN Headquarters look on at delegates during high-level week of the seventy-seventh session of the United Nations General Assembly. UN Photo/Manuel Elías