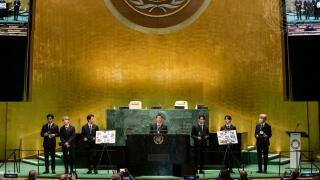 Monday 20 September marked the start of high-level week at the UN General Assembly - here are some key areas likely to be on the agenda:
Hope in the time of COVID
The UN's 75th anniversary in 2020 was always going to produce predictable statements on the value of multilateralism at the General Assembly. While the Covid-19 pandemic exacerbated the formulaic nature of the speeches as it forced the General Debate to be conducted virtually, it also lent a poignancy to proceedings as speakers focussed on cooperation in the context of this crisis, rather than reflecting on the past.
This year, the theme urges Member States to go further, anchoring pandemic recovery efforts in the context of achieving sustainable development and respect for the planet and human rights. The President of the General Assembly, H.E. Abdulla Shahid of the Maldives, made 'hope' a central element of his first speech and a performance by K-pop superstars BTS reinforced the themes of youth and future that are set to permeate key events - starting with the Sustainable Development Goals 'moment'.
Vaccine equity
Vaccine inequality will be at the top of the agenda as the world's wealthiest countries have yet to properly address the stark warnings that vaccine inequality is hampering global recovery. According to the UNDP's Global Dashboard on Vaccine Equity, currently over 60% people in high income countries have been vaccinated, compared to just 3% in low income countries.
Recently the Multilateral Leaders Task Force on scaling Covid-19 tools agreed to intensify cooperation on global vaccine delivery. The heads of the WHO, International Monetary Fund, World Bank and World Trade Organisation met with leaders of the main vaccine manufacturers to discuss strategies for achieving the Task Force's goal to reach the target of vaccinating 40% of the population of all countries by the end of 2021.
The Task Force stressed the following actions need to be taken by governments and vaccine manufacturers:
Release doses to low- and lower middle-income countries
Ensure transparency on supply of vaccines
Eliminate export restrictions and prohibitions
Streamline and standardise vaccine regulation
Progress towards this is vital, and leaders of the wealthiest countries must step up to ensure commitments to COVAX and AVAT are upheld. In particular the World Health Organisation is urging world leaders at UNG76 to:
Guarantee equitable access to Covid-19 vaccines and other life-saving tools
Ensure the world is better prepared to respond to future pandemics
Renew efforts to achieve the Sustainable Development Goals
Climate and COP26
With just six weeks to go until the 26th UN Climate Change Conference of the Parties (COP26) in Glasgow, the coming days represent an important opportunity for the UN and the UK, as COP host. 
Prime Minister Boris Johnson, as well as the new Foreign Secretary Liz Truss and COP President Alok Sharma have all travelled to New York in a bid to overcome impasses and secure commitments ahead of the meeting. The UK Prime Minister and the UN Secretary-General co-hosted a meeting of world leaders on Monday 20 September. The closed-door meeting of around 30 to 40 heads of states has been seen as an attempt to create a space for candid negotiation in an attempt to overcome impasses presently dividing key Member States. 
The announcement of the Aukus security partnership between Australia, the UK and US may have an impact on progress. Seen as a move to counter Chinese power in the Asia-Pacific, the agreement has been likened to a "new cold war' by a Chinese foreign ministry spokesperson and could further complicate efforts to engage productively on climate and other issues. It could also dampen French enthusiasm for what has been billed as the most important conference since the 2015 Paris Agreement.
Later this week, the UN Security Council will host a dedicated meeting on Climate and Security at the head of state-level. At present, UN mechanisms for monitoring and assessing the impact of climate change on conflict are limited. A resolution at this meeting could empower the Secretary-General and wider UN system to invest resources in this area. Last year, China, Russia and the US (under Trump) blocked a German-led draft.
Climate change is also expected to be taken up by elected Council members Ireland and Niger during their presidencies in September and December. The two countries currently co-chair a new Council Informal Expert Group on climate and security. Kenya has also indicated it may use its presidency to highlight climate and security. With growing support among Council members, and with a new US administration committed to addressing climate change, a resolution may be achievable this year. 
The future of multilateralism: Our Common Agenda 
On 10 September, UN Secretary-General António Guterres published his much anticipated report: Our Common Agenda.
Drawing on data from across the UN system, as well as input from the global public  from the global public, the report presents the stark choice facing humanity - breakdown or breakthrough - with recommendations on:
 A renewal of the social contract, anchored in human rights, to rebuild trust and social cohesion.
A focus on the future, through a deepening of solidarity with the world's young people and future generations.
Urgent action to protect and deliver global commons - high seas, the atmosphere, Antarctica and outer space - and global public goods – such as peace, economic security, and global health
An upgraded UN that is fit for a new era – one that can offer more relevant, system-wide, multilateral and multi-stakeholder solutions to the challenges of the 21st century
Click here for our briefing on the report and initial reactions on its content.
As the report was mandated by the UN General Assembly, UNA-UK hopes that it will be given due prominence in the coming days and that Member States will begin discussions on how to ensure that this report leads to action. 
Afghanistan
Following the Taliban takeover of Afghanistan the threat of war crimes and crimes against humanity have dramatically escalated and civilians and minority groups are at risk of retaliatory attacks. 
In the face of these threats the UN can and must work to protect Afghan men, women, and children and ensure a humanitarian crisis is averted. A key route to do so would be to ensure that humanitarian corridors are established for UN agencies delivering vital assistance on the ground. Alongside this, monitoring the human rights situation - and documenting abuses - is vital.
Last week the UN Security Council voted to renew the United Nations Assistance Mission in Afghanistan for six months instead of the standard 12. Although the Taliban did not reject this extension, it is clear UNSC members felt the need for flexibility in light of the current political circumstances.
Recently, a number of different analysts posed the question of establishing a UN Peacekeeping Mission in Afghanistan in order to mediate between parties, protect civilians and monitor actions of the Taliban government. Paul Williams outlines in this piece for IPI the pitfalls of a UN Peacekeeping mission while Lise Howard put forward a compelling case in favour,
On balance, UNA-UK believes that the prerequisites to establishing operations have not yet been satisfied. First and foremost without Taliban consent and cooperation, UN Peacekeeping is an impossibility. Moreover, the political context doesn't appear to suit UN peacekeepers - peacekeeping missions work best when there is a viable peace process to implement and a host government to support. This is not the current context in Afghanistan where there is no peace deal to implement or ceasefire to maintain and monitor. In addition, lightly armed UN observers would be at serious risk of attack from armed groups operating in Afghanistan. 
It also appears that this is not an agenda any of the relevant parties - secretariat, member states, relevant agencies and parties in Afghanistan - have so far put forward. This was evident in the UNSC resolution of 30 August that didn't mention any of the necessary elements or a proposed 'safe zone'. 
UNA-UK believes that the future of UNAMA needs to remain a priority, but that other options for human rights mechanisms must be discussed - in the Security Council as well as the General Assembly and Human Rights Council.
Ethiopia
Since November 2020 Ethiopia has been in the grip of deadly and devastating fighting between Ethiopia's federal troops and forces supporting the Tigray People's Liberation Front (TPLF) which controls a region of around six million people. Thousands have been killed and more than two million forced to flee their homes. The drawn out war has triggered a humanitarian crisis in Tigray that has left 400,000 people facing famine-like conditions.  
At present the conflict is expanding at an alarming scale as both sides show no signs of halting hostilities, and while the UN has actively engaged Ethiopian stakeholders it must go further. Earlier this month the UN Human Rights chief Michelle Bachelet deplored the alleged "gross violations of human rights, humanitarian and refugee law" by all parties to the Tigray conflict.
The UN and international actors must respond to this and urge all parties to de-escalate violence. As Richard Gowan outlines in this Crisis Group briefing, the UN Secretary-General could go further and adopt a more assertive response to this crisis. In particular to capitalise on channels in Addis Ababa to urge Prime Minister Abiy Ahmed to engage with Tigrayan leaders and for all parties to step away from the battlefield. The General Assembly may offer an important moment for the UK, US, EU and others to follow diplomatic channels with their Ethiopian counterparts to relay the urgent need for a cessation of conflict.
Photo: BTS, Special Presidential Envoy for Future Generations and Culture of the Republic of Korea, makes remarks and performs during the Sustainable Development Goals (SDG) Moment Credit: UN Photo/Mark Garten