You are here: UNA-UK releases major report on R2P and UK policy
11 April 2014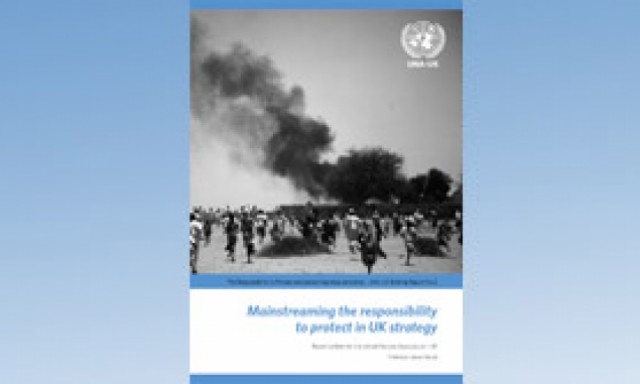 UNA-UK is pleased to announce the publication of a new report examining how the UK Government prepares for and responds to the threat of genocide, war crimes, crimes against humanity and ethnic cleansing.
Written by Professor Jason Ralph (University of Leeds), the report is titled Mainstreaming the Responsibility to Protect in UK strategy, and looks at how the UK Government can stand by its commitment to implement the Responsibility to Protect (R2P).
Professor Ralph provides an overview of the UK's stated position on R2P before surveying current UK policies on conflict prevention and civilian protection, notably the Building Stability Overseas Strategy. The report looks specifically at where atrocity prevention could be inserted into existing cross-government policy.
The author finds that policy guidelines on early warning and conflict analysis do not include indicators on genocide and crimes against humanity, which can happen during peacetime as well as during conflict. This means that crucial signs of brewing communal tensions could be overlooked, leaving potential instabilities to grow until they require more robust responses, including costly military intervention to protect civilians.
The report also looks at the dilemmas of humanitarian intervention and its relationship with military intervention as envisaged within the R2P framework, with particular reference to the debate in the UK on potential military action in Syria in August 2013. This section also looks at the role of the UN Security Council in authorising such action under R2P and the importance of protecting the current consensus around R2P's more robust measures.
The report ends with three recommendations for plugging the gaps identified, starting with minimal change to UK policy and ending with a proposal for a more substantive revision:
Make adjustments to early warning and conflict analysis process;
Strengthen the position of the R2P Focal Point, creating a team with the capacity to elevate concerns about R2P across government departments and institutionalise the position of the Focal Point within the current decision making processes;
Identify atrocity prevention as a vital national interest of the UK, re-writing current stabilisation policies to include atrocity prevention and protecting these activities from budget cuts.      
Click here to view the report.
Photo: UN Photo / Albert González Farran