You are here: UNA-UK joins civil society, EU and UN officials in Brussels to discuss the prevention of atrocities
25 January 2019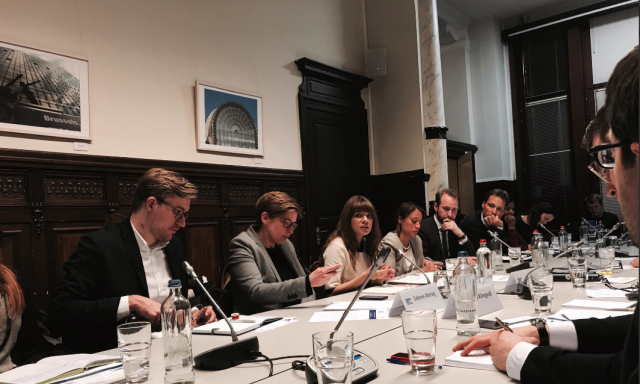 UNA-UK's Laurel Hart joined civil society organisations, EU and UN officials in Brussels last week to discuss how European states, the EU and civil society can better enhance their contributions to the prevention of atrocity crimes.
The event was organised by Protection Approaches, Friedrich Ebert Stiftung and the UN Office on Genocide Prevention and the Responsibility to Protect. Speakers included Mr Adama Dieng, UN Special Adviser on the Prevention of Genocide, Dr Kate Ferguson, Co-Director of Protection Approaches and Louisa Klingvall, Policy Officer on Fundamental Rights, DG JUST, European Commission.
The meeting was a timely opportunity to discuss and assess Europe's efforts to prevent and respond to atrocity crimes and reflect on ways in which those already engaged in this area of work can better coordinate efforts to protect and prevent atrocity crimes.
Protection Approaches' Dr Kate Ferguson started by addressing the concerning trends seen across Europe including the growth in right-wing ultranationalism, hate crime and other forms of identity-based violence; alongside the rise of populist sentiment against refugees and migrants more generally.
Speakers acknowledged the positive developments made in strengthening European states' prediction and prevention of atrocity crimes while also drawing close attention to situations where Europe as a region has fallen short in its collective responsibility to protect vulnerable populations, in particular refugees and migrants.
As part of the conversation on how to improve state and regional contributions to the prevention of mass atrocities, speakers articulated the need for governments to develop their own national cross-government strategy on atrocity prevention - no country in Europe has yet to do so.
Speakers stressed the central role civil society actors play in the prediction and prevention of such crimes; making clear that Europe's responsibility to protect vulnerable populations from such crimes is a responsibility that cannot be carried by one sector or country alone, but that it requires closer collaboration between civil society, states and international and regional institutions.
What can the UK do?
UNA-UK has long called for a cross-government atrocity prevention mechanism to strengthen the UK's work in this area. The UK government recently rejected parliamentary pressure to produce such a strategy, arguing that atrocity prevention work is already undertaken as part of the Government's conflict prevention agenda and within existing geographical and thematic workstreams. UNA-UK argues that this is insufficient and calls on the UK government to reconsider its response. 
UNA-UK is concerned that the UK's planned withdrawal from the European Union is likely to have a direct effect on the nature of Britain's role in the world and its leadership on peace and security issues. If the UK government is to have a meaningful role in preventing mass atrocities then it needs to ensure a cross-departmental approach, where departmental imperatives are aligned, so that the UK is better able to meet its international commitments.