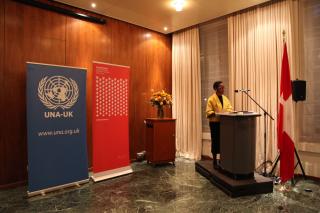 On Tuesday 24 October, UNA-UK marked the UN's 78th anniversary in partnership with the Swiss Embassy. On this occasion, UNA-UK were delighted to present the Sir Brian Urquhart Award for Distinguished Service to the UN to Dr. Comfort Ero, President and CEO of the International Crisis Group.
UN Day marks the anniversary of the UN Charter entering into force, and provides an opportunity to reflect on the achievements of the UN and the challenges that lie ahead for the Organisation. 
Today, the international community faces immense, interconnected challenges, from escalating violent conflicts to widening inequalities, from shrinking civic space to rising global threats. In this context, UNA-UK was pleased to present this year's Sir Brian Urqhart award to Dr Ero for her dedicated work on peace and security issues.
Throughout her distinguished career, Dr Ero has worked on or in conflict-affected countries, previously serving as Deputy Africa Program Director for the International Centre for Transitional Justice and Political Affairs Officer and Policy Advisor to the Special Representative of the Secretary-General, UN Mission in Liberia. 
UNA-UK was honoured to be joined by Dr Ero, who delivered the keynote speech on rising challenges across the globe, and what the UN can and must do to tackle them.
Dr Ero said:
"One could look at the state of world affairs and lose confidence in the project that is the UN. I challenge you not to. The UN needs to rise above geopolitical divides. The diplomatic dialogue it can convene is still needed to help resolve many of the world's most damaging crises. And, perhaps above all, it is meant to be the voice of the voiceless. 

Brian Urquhart understood this. I know that many of you here tonight understand this. We at Crisis Group understand this. But we must all work together to help support the UN in its journey to meet these aspirations."
Reflecting on her career, Dr Ero said:
 "Having worn many hats at Crisis Group…I have witnessed the UN's strengths and shortcomings first hand. It is hard to tell my professional story without starting at UNA-UK. My journey – particularly how I became intrigued with the UN's role in global affairs – began precisely 30 years ago as an intern (there).

I found a home at the UN Association, and my work there laid the foundation for the rest of my professional journey." 
You can read Dr Ero's speech in full here.
UNA-UK was delighted to mark UN Day in partnership with the Swiss Embassy, bringing together members of the diplomatic, political, NGO and academic communities to acknowledge the vital role of the UN.
H.E. Markus Leitner, Swiss Ambassador to the UK, highlighted Switzerland's commitment to the UN, and the important role the organisation holds amid escalating conflict. He said:
"We need a United Nations that can convincingly defend international humanitarian law, provide humanitarian aid and prevent regional escalation.

"We have formulated ambitious priorities for our Security Council membership that we hold this year and next year. These are: building sustainable peace; protecting civilians; addressing climate and security; and enhancing the effectiveness of the UN Security Council - bringing more transparency, more accountability, more inclusion of non-members."
Remarking on the longevity of the UN and UNA-UK's mission to support and empower the effectiveness of Organisation's mandate Marissa Conway, CEO of UNA-UK, said:
"The UN and its Charter have never been more needed. Interconnected, global crises require urgent collective action and a more inclusive and networked multilateral approach - one that can rebuild trust in our international governance systems to be accountable, transparent and inclusive at their core. 

UNA-UK remains committed to empowering and supporting the UN, member states, and civil society in realising this vision. We are committed to raising ambition, pursuing action and delivering on building a more equal, sustainable and peaceful future."

 
Read more
Photo: Dr Comfort Ero delivers the keynote speech at UNA-UK's UN Day event with the Swiss Embassy.