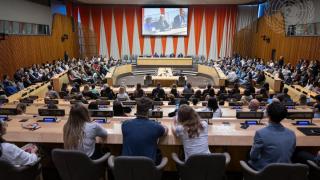 Today the Blue Smoke working group - comprising UNA-UK, Plataforma CIPÓ and Strategy for Humanity - launched a joint statement outlining a set of principles for fair, inclusive, transparent appointments that should be at the heart of all hiring processes for senior UN leaders.
The statement, endorsed by more than 40 civil society organisations across the globe including Amnesty International, Human Rights Watch and CIVICUS, calls on Secretary-General António Guterres and all Member States to take steps to ensure no one is excluded from applying for top jobs based on their race, nationality, gender or any other protected characteristic. 
Read the Blue Smoke Principles Statement
All senior, political, and public roles at the UN should be inclusive, merit-based and transparent. This is essential not only for the credibility – and therefore effectiveness – of the mandate-holder and the UN, but to help find the world's most qualified leaders irrespective of nationality or background. Given the challenges humanity is facing, the UN cannot afford anything less.
Specifically, we call for all UN appointments to be:
Fair And Human Rights-Centred

Inclusive

Diverse

Gender Sensitive

Transparent

No Monopolies

No Lobbying

Rethink State Backing

Stakeholder Inclusive

A Mainstreamed Process
"We, the peoples" have a right to know who is exercising the power vested in the United Nations, and how they got there. No one is well served by the pretence that senior appointments are internal matters when it has been revealed time and again that these posts are traded by and between states for political capital. 
While a recently-adopted UN resolution has made significant progress towards improving transparency and inclusivity, there are still many missed opportunities to strengthen how top jobs at the UN are handed down. Further action and greater political will is needed to address the unbroken chain of male Secretaries-General and continued practice that damage credibility - including state monopolies and lobbying. We believe these principles should guide senior appointments at the United Nations - and how states engage with the appointment processes. 
Now, more than ever, the public needs confidence in the UN. Pulling back the curtain on UN senior appointments in pursuit of an open, inclusive, merit-based approach will aid this mission. Collectively we urge member states and the Secretary-General to put the principles into practice.
Read more
Photo: All eyes on the UN: Secretary-General Meets with UN Staff after End of General Assembly Debate. Credit: UN Photo/Eskinder Debebe