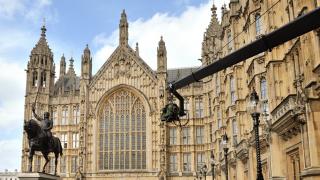 As the race to appoint a new UN Secretary-General gathers momentum, UNA-UK has been organising informal meetings between candidates and members of the All-Party Parliamentary Group on the United Nations (UN APPG).
The meetings have served to increase parliamentary scrutiny of the selection, as part of our 1 for 7 Billion campaign for a more open and inclusive process. UNA-UK believes that the views of Parliamentarians should be sought by the UK Government.
The outcomes of these meetings have been summarised below. 
Natalie Gherman
On 26, April, Natalia Gherman, Moldova's former Deputy Prime Minister and Minister of Foreign Affairs, addressed a meeting hosted jointly by the UN APPG and the APPG on Moldova. After setting out her vision, Ms Gherman praised the recent improvements to the selection process, although she commented that she was not convinced by the proposal of UNA-UK's 1 for 7 Billion campaign to disregard the informal principle of regional rotation, saying: "If the UN is about fairness, then it might as well be the turn of an Eastern European". No Secretary-General to date has been from the region.
In response to questions, Ms Gherman said that she would adopt a "zero tolerance" policy on sexual abuse committed by UN peacekeepers, adding that perpetrators should be held accountable in their home countries. She emphasised that women should be at the centre of peace processes and expressed support for the UK initiative on stopping sexual violence in conflict.
António Guterres
On 16 June, Chair of the UN APPG, Lord Hannay of Chiswick, met with António Guterres, former UN High Commissioner for Refugees and former Prime Minister of Portugal. During the meeting, Mr Guterres set out his proposals for the UN. He said that strengthening the UN's approach to conflict prevention would be one of his top priorities if appointed Secretary-General, as well as ensuring accountability for crimes of sexual abuse committed by UN peacekeepers. Drawing on his experience within the UN system, he also commented on the need to focus on prevention and the careful balance a Secretary-General needs to strike as the servant of all member states.
Lord Hannay subsequently briefed other members of the APPG on the meeting.
Vuk Jeremić
On 21 April, Lord Hannay met with Serbia's Vuk Jeremić, President of the Centre for International Relations and Sustainable Development and former Minister of Foreign Affairs.
Mr Jeremić outlined the 53 proposals contained in his policy platform: A Platform for Action and Impact: 53 commitments to strengthen the UN in the 21st century. He focussed in particular on peace and security - notably reform to peace operations; management reform - including gender parity within the UN system for senior appointments; and sustainable development and climate change, which he said he would place at the heart of the UN system should he be appointed. 
Lord Hannay subsequently briefed other members of the APPG on the meeting.
Vesna Pusić
On 8 June, UNA-UK organised a UN APPG meeting with Vesna Pusić, Croatia's former Deputy Prime Minister and Minister of Foreign Affairs. Gender inequality within the UN system formed a central focus of the meeting, with Dr Pusić promising to make great improvements to women's representation at the UN. Outside the Organisation, Dr Pusić said that she would seek to improve the education of women amd girls, including by providing scholarships as a form of humanitarian assistance. She also noted the need to engage a much wider group of countries in a new development partnership.
When asked whether the next UN Secretary-General should be appointed for a single, longer term of office - a key reform proposal of the 1 for 7 Billion campaign - Dr Pusić agreed that this would make the role "easier" but noted that this was strictly for member states to determine.
Photo: Houses of Parliament, Parliamentary copyright/Catherine Bebbington