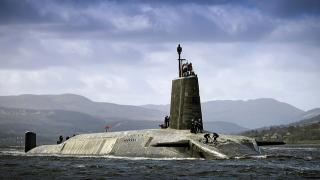 This week, the UK is absent from UN meetings attended by over 130 countries to discuss ways of "taking forward multilateral nuclear disarmament negotiations". 
The meetings, held in Geneva, comprise the third and final session of the Open-Ended Working Group (OEWG). The Group has been tasked with submitting recommendations for general and complete disarmament to the General Assembly this autumn.
The latest OEWG draft shows that the majority of states participating are calling for work to begin next year on a legally-binding treaty prohibiting nuclear weapons, leading to their total elimination. 
In light of the UK's international obligation to disarm under the Non-Proliferation Treaty (NPT) and its commitment in last year's National Security Strategy and Strategic Defence and Security Review to "work with our international partners to tackle proliferation and to make progress on multilateral disarmament", the UK's decision not to attend the OEWG meetings is surprising.
UNA-UK has persistently called for the UK to participate fully in international discussions on nuclear disarmament and to acknowledge the ways in which building trust between Nuclear and Non-Nuclear Weapon States is in our national interest. 
The UK's perceived failure to live up to its international obligations risks hampering the UK's ability to further its interests in international fora and threatens to damage the rules-based international order that the UK's own security strategy places such value on.
Last month, UK parliamentarians voted to renew Britain's Trident nuclear weapons system. Ahead of the debate, UNA-UK wrote to the Prime Minister urging the Government not to "rush through" a final decision on Trident replacement in the midst of the economic and political instability caused by the EU referendum.
Read UNA-UK's evidence on the UK's National Security Strategy
Photo: Royal Navy Vanguard Class submarine HMS Vigilant returning to HMNB Clyde after her extended deployment (Defence Images).