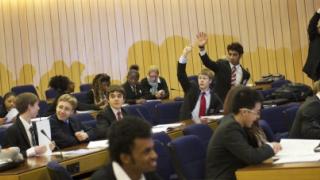 UNA-UK is delighted to report that its campaign to retain teaching about the UN under the National Curriculum has been successful.
The publication of the new curriculum for England and Wales, due to take effect in September 2014, marks the end of a long-running campaign for the Association. Along with members of the Democratic Life coalition, UNA-UK first lobbied for Citizenship to remain a foundation subject for Key Stages 3 and 4.
Once this had been achieved, UNA-UK turned its attention to the content of the proposed programmes of study, calling for them to include explicit references to the UN, human rights and international law, and to promote a broad view of what it means to be an active and responsible local, national and global citizen.
The campaign involved a wide range of partners, including the Association of Citizenship Teaching, the UN All-Party Parliamentary Group and UNA Youth. All expressed pleasure at the strengthened programmes of study unveiled yesterday.
Natalie Samarasinghe, UNA-UK's Executive Director, said: "Learning about the UN is integral to understanding the UK's relations with the rest of the world, including on complex issues such as the crisis in Syria. We firmly believe that this decision will enrich young people's knowledge of global affairs and enhance their ability to tackle the challenges their generation will face."
To aid teaching about the UN, UNA-UK has produced a raft of resources in collaboration with UNESCO Associated Schools UK. These were recently featured on the Guardian Teachers Network as "an invaluable guide" for teachers wishing to introduce their students to the United Nations and international diplomacy.
For more information on these resources, or to request hard copies, please contact UNA-UK on 020 7766 3454