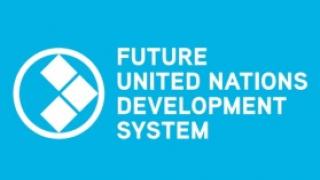 This briefing by UNA-UK Executive Director Natalie Samarasinghe was originally published by the Future United Nations Development System project ahead of the UN Sustainable Development Summit, 25-27 September 2015
An effective Secretary-General, selected through a robust process that provides him or her with a broad-based mandate, could have a transformative impact on the Organisation's appetite and ability to implement much-needed change.
Why do efforts to reform the UN fail? Except, perhaps, on the hardest issues, such as implementing an effective response to mass atrocities, the answer is rarely a lack of workable proposals. This is arguably most evident when it comes to reform of the UN's development system.
"There is no point in mincing words: the UN is a structural monstrosity." The development system is in large part responsible for Jussi M. Hanhimäki's description, encompassing some 30 bodies, each with distinct governance, funding, and staffing arrangements and with different, though not necessarily distinct, mandates. Collectively, the system has delivered conceptual and policy gains, as well as tangible improvements on the ground, but there are invariably issues of coordination and sheer complexity.
 
How can development reform become a priority? Proponents should consider the opportunities presented by the appointment of a new Secretary-General in 2016, and initiatives to improve the selection process.
 
At first blush, improving a UN recruitment process may seem like a marginal reform with limited impact. However, smart leadership can stimulate reform. At the policy and practical level, the Secretary-General can add value: encouraging action on situations that lack big-power interest; making smart, incremental reforms; appointing quality personnel to key UN positions; and serving as a voice for the marginalised. They also have the power, under Article 99 of the Charter, to bring any matter to the attention of the Security Council that they deem threatens international peace and security.
Who is the best person for the job?
Through formal and informal channels, Secretaries-General have the potential to transform the world Organisation. Their ability to do so would be enormously strengthened by a selection process that is focused on merit; gives them a broader base of support; and minimises, to the extent possible, the political compromises needed for appointment. To date, the process has satisfied none of these conditions.
 
Even states on the Security Council can be left in the dark. According to Edward Mortimer, in 2006, the United Kingdom and France were largely marginalised: "Last time round, China insisted that it was Asia's turn, the US quietly agreed with China on Mr Ban … and Russia didn't mind as long as it wasn't an eastern European. The choice was left, in effect, to just three people – George W Bush, Vladimir Putin and Hu Jintao."
 
The sum effect is a seriously deficient process, out of step with modern recruitment practices and contrary to the UN's principles of good governance. Above all, it is geared towards producing not the highest-calibre candidates but those who are unlikely to trouble the P5. While incumbents sometimes have proved them wrong, Secretaries-General could achieve much more if the process encouraged them to be bold and visionary. It could and should be merit-based, transparent, inclusive, less politicised, and realistic.
 
An emphasis on merit also means improving the nomination process and widening the talent pool. States should involve parliaments and civil society in identifying candidates. While the issue of regional rotation is of serious concern to many member states, this convention only gathered steam in the 1990s. Diversity matters greatly in an organisation such as the UN, but it should not trump quality.
 
The same applies to gender equality even as support grows among member states for a strong field of female candidates. A number of states have expressed a preference for a female Secretary-General and there are two major dedicated civil society campaigns for this cause. This author too would like to see a woman on the 38th floor, but only if she is the best possible candidate.
Transparency and inclusiveness
The process should be transparent and inclusive, with a public shortlist of candidates and a requirement for them to set out their priorities for the Organisation. At the World Health Organization (WHO), 15 candidates are required to submit a 2,000-word vision statement, which is available online alongside their respective CVs.
 
An adaptation for selection of the UN Secretary-General could be arranged under the so-called Arria formula meetings (open to civil society) in the Security Council, interactive dialogues in the General Assembly, and other informal exchanges with civil society and the press. At the time of the last appointment, when social media was in its infancy, there was already pressure on candidates to engage and many did so enthusiastically, creating websites, giving interviews and public presentations.
A less politicised process?
No Secretary-General can be free from politics, but steps can be taken to lessen the impact during the selection process. The practice by which states extract promises (particularly on other senior appointments) in exchange for support is enormously damaging. It politicises the Secretary-General before he or she is in post and can lead to poor appointments to key positions.
 
A single term of office would further strengthen the possibilities for autonomy. It would provide candidates with political space to develop and implement a more independent, long-term, and visionary agenda.
 
All the elements outlined above would be supported by a clear timetable, setting out deadlines for nominations, exchanges with candidates, and state deliberations.
A realistic process?
None of the measures set out in this paper require amending the UN Charter—traditionally the biggest obstacle to reform. They could be implemented through formal or informal decisions in the Security Council and General Assembly. Indeed, most of these proposals have been previously endorsed by the General Assembly, and there are encouraging signs that they may be implemented.
 
Efforts to improve the process started much earlier than in the past. Some 18 months before Mr Ban's term ends, states — notably the Accountability, Coherence and Transparency Group and Non-Aligned Movement — began putting forward concrete proposals. Launched in 2014, the civil society reform campaign, 1 for 7 Billion, has built a supporter base of over 170 million people.
 
The Security Council has held discussions on the selection process, and Spain, a non-permanent member, has announced its intention to organise a debate addressing this issue during its presidency in October 2015. Perhaps most importantly, two permanent members—the United Kingdom and, to a lesser extent, France—are supportive of an improved process. London has taken on a leadership role within the P5, publicly supporting a structured process that enables all states and civil society to interact with candidates.
 
This momentum has resulted in an unprecedented General Assembly Resolution 69/321, adopted by consensus on 11 September 2015. It asked the presidents of the General Assembly and of the Security Council to send a joint letter to states containing a description of the entire process; called for candidates' names and CVs to be circulated; and decided to "conduct informal dialogues or meetings" with candidates.
 
This process has also attracted pushback, notably from China, Russia and the United States. Their position is short-sighted. The proposed reforms do not diminish the Security Council's role in the decision and would go some way to restore confidence in the system they wish to preserve.
 
While their cooperation would produce the most satisfactory outcome, there is much that could be done without it. States can nominate highly-qualified candidates regardless of gender and nationality. The General Assembly could implement elements of Resolution 69/321, such as issuing a timetable. It could also take further action by asking to be given a real choice, with more than one candidate put forward by the Security Council.
Pay-off for the UN development system?
A process that genuinely engages all member states and civil society would give future Secretaries-General a broader base of support. This is likely to boost their ability to push forward the UN's development reform agenda.
 
International peace is invariably at the top of any Secretary-General's agenda, but this idea is reinforced by the selection process, which puts the decision in the hands of the Security Council, guided by five rich military powers instead of the wider UN membership that is more development-oriented. The involvement of civil society and the media is also likely to put more emphasis on development, particularly in the first "implementation" year of the Sustainable Development Goals (SDGs) approved in September 2015.
 
A better process could give the next post-holder a stronger mandate to deliver on these commitments, and free her or his hand in making high-quality appointments, particularly a Deputy Secretary-General who could focus on the development system.
 
Improving the selection process for the Secretary-General would serve as a powerful symbol for broader UN reform, signalling that the system is capable of change and representing a move away from the big-power hold on international organisations that is increasingly at odds with the world's changing landscape and with what global civil society –"we the peoples" in the opening words of the UN Charter – is prepared to accept.
Download the full briefing paper 'Selecting the Ninth Secretary-General, a Practical Step Towards Development Reform?' in PDF