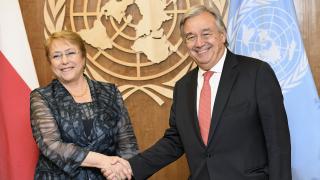 The Secretary-General has nominated Michelle Bachelet of Chile to be the next High Commissioner for Human Rights.
Verónica Michelle Bachelet Jeria has twice served as the President of Chile (2006-2010 and 2014-2018) and was the first ever Executive Director of UN Women (2010-13). As a dissident, and the child of dissidents, under the regime of General Augusto Pinochet she was active in resistance networks and experienced torture, arbitrary detention, and the disappearance of friends and colleagues.
It is now up to the General Assembly to approve the Secretary-General's selection and make the appointment official. The Assembly will meet at 10am (EDT) on 10 August 2018 for this purpose. While in previous instances the Secretary-General's choice has been unanimously approved without the need for a vote (in meetings which have lasted a few minutes) it is technically possible, although not considered likely, for member states to force a vote on the approval. Such a vote would either require a simple majority or a two thirds majority depending on whether the General Assembly considers the matter to be an "important question", which could well be disputed.
If, as expected,  Michelle Bachelet is appointed on 10 August to begin the role on 1 September, Ms Bachelet will face the shortest window for preparation in the role's history.
Natalie Samarasinghe, Executive Director of UNA-UK, said:
The Secretary-General's nomination of Ms Bachelet is certainly a strong choice. She has experience at the highest level of government, at the highest level of administration within the United Nations, and of working with civil society under the shadow of oppression.
UNA-UK campaigned for the process to be robust, inclusive and transparent, and we were delighted that there was a public advert and call for civil society nominations. We will continue to ask questions as to the extent to which best practice was followed for this crucial role.
UNA-UK has been campaigning for a robust, transparent appointment process using a transparency checklist.
Click here to read our analysis of the appointment process so far.
Photo: Michelle Bachelet with the Secretary-General, UN Photo