You are here: Response to UNA-UK call for UK to attend nuclear ban treaty negotiations
22 June 2017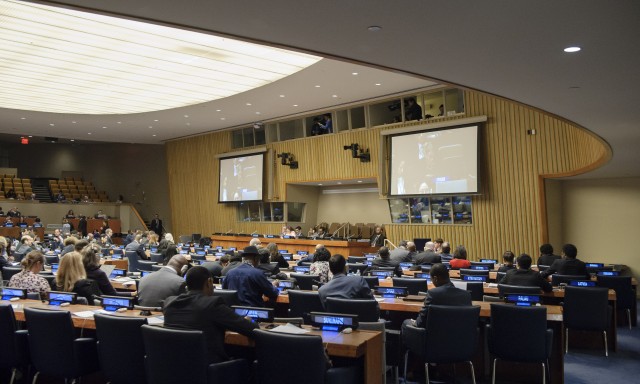 Negotiations are underway at the UN to create a legally-binding treaty to prohibit nuclear weapons, with over 130 countries participating.
The UK's non-participation raises serious doubts over the UK's compliance with its international obligations, including its commitment to pursue negotiations on multilateral nuclear disarmament under the Treaty on the Non-Proliferation of Nuclear Weapons (NPT).
Ahead of the negotiations, UNA-UK's Chair, Lord Wood, urged the UK to reconsider its decision to stay away:
The decision of nuclear-weapon states not to participate in the upcoming UN negotiations is regrettable and could contribute to a deterioration of relations between those with nuclear weapons and those without. [...]

The UK has an important role to play on this front. Firstly, the UK should work energetically to improve relations with non-nuclear-weapon states. This includes reversing its decision not to participate in the 2017 UN nuclear disarmament negotiations and by taking other unmistakable steps to demonstrate Britain's commitment on this issue.

Secondly, the UK should take actions to help restore the health of the NPT regime, including by initiating an inclusive process to work on the 2010 64-point Action Plan and by publishing an annual report on the UK's contribution towards its implementation.

Lastly, the UK should acknowledge the negative effect that any perceived failure to honour its international obligations could have on the standing of the wider system of international laws and norms, a system upon which – according to the UK's own analysis – Britain's security and prosperity depend.
The Government response stated that the UK "remains committed to continue to work with partners across the international community to prevent proliferation and to make progress on multilateral nuclear disarmament" before reiterating its decision not to attend the negotiations. UNA-UK believes this is a missed opportunity to listen to the concerns of non-nuclear-weapon states and demonstrate commitment to its obligation to work for a world free of nuclear weapons. Negotiations began on 15 June and will end on 7 July 2017.
Given the dangers arising from a lack of international cooperation on nuclear security issues and the potential emergence of a new arms race between nuclear powers, principled and engaged leadership from nuclear-weapon states is sorely needed. 
It is regrettable that the UK is not using the negotiations as an opportunity to build bridges with a significant proportion of the international community and makes it even more important for the UK to pursue other routes to reassure partners and cooperate internationally.
Working with BASIC, UNA-UK has outlined 30 opportunities for UK actions which could carry cross-party support and would help the UK signal its commitment to multilateral disarmament. By taking such actions, the UK would be contributing much-needed leadership to what is an increasingly divisive and dangerous international issue.
Read our report outlining 30 opportunities for UK action on disarmament
Image: UN Conference on Treaty to Prohibit Nuclear Weapons (c) UN Photo/Manuel Elias
More on Nuclear disarmament, Keeping Britain global