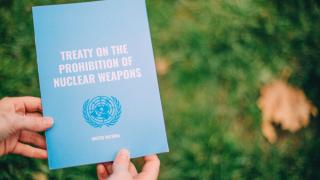 The Treaty on the Prohibition of Nuclear Weapons (TPNW) entered into force today, making nuclear weapons now illegal under international law.  
It is the first multilateral nuclear disarmament treaty in more than two decades, now law three years after being negotiated at the UN General Assembly and 90 days after the 50th country joined the Treaty on 24 October 2020. This follows years of campaigning by civil society, mayors, faith leaders and nuclear weapons survivors under the banner of the International Campaign to Abolish Nuclear Weapons (ICAN, 2017 Nobel Prize Winners).
The TPNW currently has 51 states parties and an overall supporter-base of at least 130 countries - over two thirds of the international community.  The Treaty has the support of the United Nations Secretary-General, who sees it as an "important element of the nuclear disarmament and non-proliferation regime". 
While observing Covid restrictions, British-based ICAN partners are marking this important milestone in many ways, working with MPs, Mayors and local leaders to raise awareness via billboards, banners and bell ringing.
The UK's relationship with the TPNW
At present the UK Government does not support the Treaty. UNA-UK has repeatedly stressed: Britain's failure to live up to its disarmament commitment is contributing to a deterioration in nuclear security. Furthermore, the UK's dismissive approach to a Treaty with wide international support will affect the UK's diplomatic relations as it seeks to build a new reputation under its "Global Britain" mantra. 
The Treaty will affect the UK at home too:
ICAN UK partners, including UNA-UK, have written to Prime Minister Boris Johnson to urge his government to engage constructively with this Treaty. Until such time that the UK is able to join the Treaty, ICAN UK partners have called on the UK to participate in meetings of states parties as an observer and contribute to discussions including on disarmament verification, environmental remediation and victim assistance. 
UNA-UK's Head of Campaigns Ben Donaldson commented:
"The ground is moving under the UK's feet. This significant new UN treaty will sit alongside the other major global treaty on nuclear weapons, the Non-Proliferation Treaty, and drive forward the vision of a world free of nuclear weapons. Nuclear weapons are a global threat. Two thirds  of countries want urgent action to reduce this threat. The UK has a legal and moral responsibility to act."
Nuclear weapons are dangerous security risks, not assets. They are useless for tackling today's major threats like the COVID-19, climate and ecological emergencies. Whether intentional or accidental, any nuclear weapons use would have catastrophic and global humanitarian consequences.This cannot be confined to a national debate - the UK has a responsibility to listen to the concerns of the global community.
Image: A copy of the UN Treaty on the Prohibition of Nclear Weapons (c) ICAN | Aude Catimel