You are here: Insights into Our Common Agenda
16 September 2021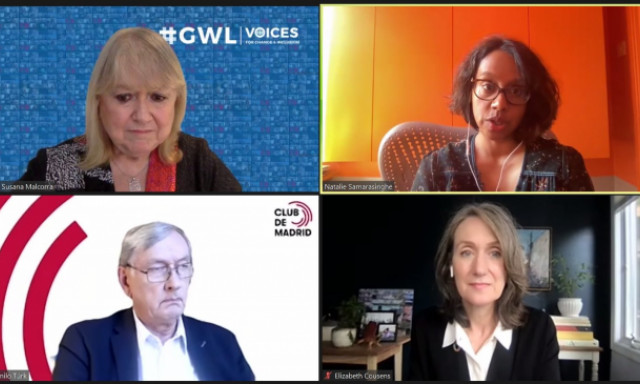 On 16 September, our CEO Natalie Samarasinghe moderated an event on the Secretary-General's Our Common Agenda report.
Organised by the Group of Women Leaders, Club de Madrid and UN Foundation, the provided initial reactions to this agenda-setting report from Danilo Türk, former President of Slovenia and former UN Assistant Secretary-General for Political Affairs; Elizabeth Cousens, President of the UN Foundation and former US diplomat; and Susana Malcorra, former Foreign Minister of Argentina and former Chef de Cabinet to Secretary-General Ban Ki-moon.
The discussion looked at why this report matters, some of its major themes and proposals, and what happens next.
Click here to watch the event and here for our briefing on the report.
Photo: Susana Malcorra, Natalie Samarasinghe, Danilo Türk, and Elizabeth Cousens speak at the GWL event.