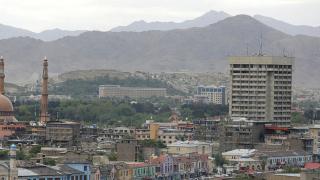 After four decades of conflict and crises, the people of Afghanistan are facing multiple threats, including hunger, violence, extreme poverty, human rights abuses and COVID-19.
One in three Afghans do not have enough food. Over half a million have been forced to flee their homes since January. More women and children have been killed or wounded in the first half of this year, than in any full year since records began in 2009.
And the situation is deteriorating rapidly. Reports are emerging every day of atrocities and abuses - including against women, minorities, and journalists. Yesterday, two bomb attacks outside Kabul airport killed dozens of civilians and halted evacuations. Most land borders are now shut. Thousands of Afghans who worked with the US, UK and others remain in the country. Hundreds of thousands are thought to be at serious risk of violence. Around 18 million need humanitarian assistance.
The UN Assistance Mission in Afghanistan (UNAMA) and several UN agencies are on the ground. But they need funding and political support.
UN Secretary-General António Guterres has called for a meeting of the five permanent members of the Security Council (China, France, Russia, the UK and the US) on Monday, following a lacklustre press statement by the Council earlier this month and an inadequate resolution adopted by the Human Rights Council.
Here are five things you can do to help:
Photo: A view of Kabul, the capital of Afghanistan. ​​​​​​Credit UNAMA/Fardin Waezi