You are here: UNA-UK Youth: Launching Generation United Nations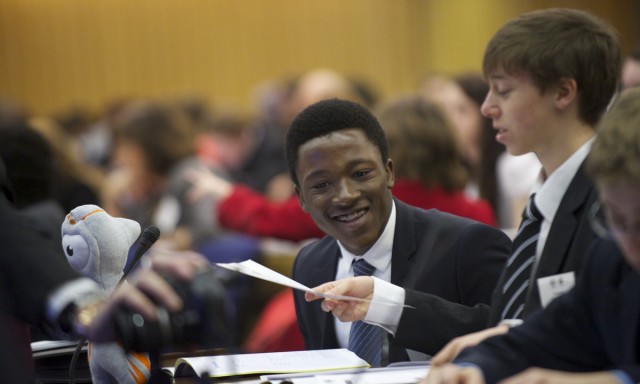 On 10 March, over 200 students from schools across the UK gathered at the headquarters of the International Maritime Organisation in London for UNA-UK's inaugural Model UN schools tournament, Uniting the Nations. The event launched UNA-UK's new Generation United Nations programme, which aims to engage 13– to 18-year-olds and their schools in the work of the UN, see here for futher details.
The theme of the tournament was "Making a reality of the Olympic Truce". Based on the traditions of the ancient Olympic Games, the Olympic Truce centres on the idea of ceasing hostilities for the duration of the Games to enable humanitarian aid and facilitate dialogue between warring parties.
Students heard from Bill Morris, London 2012 Director of Ceremonies, Education and Live Sites, who outlined the breadth of Truce activities taking place around the UK, and from Conrad Bailey of the Foreign and Commonwealth Office, who described how the UK worked to secure the support of all 193 UN member states for a UN General Assembly resolution on the Truce.
Afterwards, students were split into six UN Security Council committees. Representing country ambassadors, they discussed how the ideals of the Olympic Truce could be used to build a safer, fairer and more sustainable world for us all. Each country delegation had two minutes to deliver an opening statement, in which thoughtful responses to the resolution were presented. The formal debate was an opportunity for the participants, many of whom had never taken part in a Model UN event, to show off their impressive background research and practise their diplomatic skills. Much informal lobbying took place in between formal sessions and over lunch, where many unlikely alliances blossomed to propose amendments.
As in real life, not all negotiations led to a Security Council resolution – many fell foul of a veto by one or more of the Council's permanent members – but every committee came up with a host of ideas on peace and security, human rights protection and international development. The calibre of debate was incredibly high and the buzz throughout the day was palpable.
Five students from each committee were awarded prizes, and bronze, silver and gold awards were given to the best performing schools. The top prize – a trip to the UN headquarters in New York – was won by Josh Bendel, Louis Bostock-Williams and Rory Maclean from Ellesmere College, Shropshire.
A film showcasing the best bits of the day is available from www.una.org.uk
UNA-UK would like to thank the UK Foreign and Commonwealth Office, Big Lottery Fund, London Organising Committee for the Olympic and Paralympic Games, and the International Maritime Organisation for their generous support of this event
Photo: Copyright UNA-UK/Mark Makela