You are here: Chris Goddings on a rights-based approach to development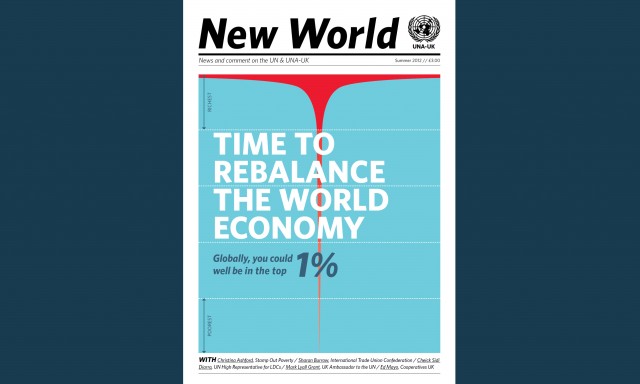 Rio+20: a rights-based approach to development
The United Nations Conference on Sustainable Development, being held in June, or Rio+20, is due to set out the development priorities of the international community. The seven critical issues released prior to the Summit seems to suggest that the much touted creation of Sustainable Development Goals (SDGs) could be a very realistic outcome.
This possible outcome also provides a vital opportunity to assess the impact of the Millennium Development Goals (MDGs) ahead of next year's UN review summit. The MDGs, due to expire in 2015, require a frank assessment as to whether they ought to be renewed, or amended to help ensure that these goals remain achievable. At present two of the eight goals have been met ahead of schedule, though many appear to still be way off target.
Only goal seven of the current MDGs acknowledges the impact of sustainable development. Both summits are seemingly trying to differentiate themselves, but it is vital that the SDGs and MDGs are harmonised appropriately if either are to be fully realised. The Brundtland Commission's 1987 report and the resulting principles from the 1992 Rio Declaration on sustainable development are still yet to be properly tackled. This is partly due to these issues being addressed separately, as though unrelated, by various development actors, when there should be a holistic approach to treat them together as a unified problem.
Many have criticised those industrialised countries who seek to stem the development of poorer nations while unable to curb their own patterns of unsustainable consumption. Failure to reach agreement will lead to dire consequences for the most vulnerable in the world's least developed countries. Any goals that are set in Rio must recognise that viable environmental and sustainable development must be inextricably linked to human rights and social justice issues. The targets set need to be ambitious, address issues of equality and most importantly, applied both regionally and globally.
The consequence of inadequate results from Rio+20 will only serve to exacerbate the current effects of climate change. While cutting back on global resources to sustainable limits is needed, it must be done with caution and consideration of all those at stake, as even solutions with the best intentions can have severe repercussions. However it is possible to relieve the burden on the planet and help achieve a more secure foundation for all. The Food and Agriculture Organization highlighted one such remedy: by reducing food losses (currently 1.3bn tonnes a year), via improvements to harvesting and processing techniques, it would alleviate the negative environmental impact associated with surplus food production.
It is important for all those in attendance at Rio to recognise the link between environmental sustainability and the future progress of the MDGs. Potential conflict between the two could harm the chance to achieve these goals but a joint approach could well exceed our expectations.
Chris Goddings has recently completed a Membership Administration and Projects Internship at UNA-UK.
UNA-UK is a member of Beyond 2015, a global campaign pushing for an effective framework for the MDGs post-2015.