You are here: Eliminating food insecurity and malnutrition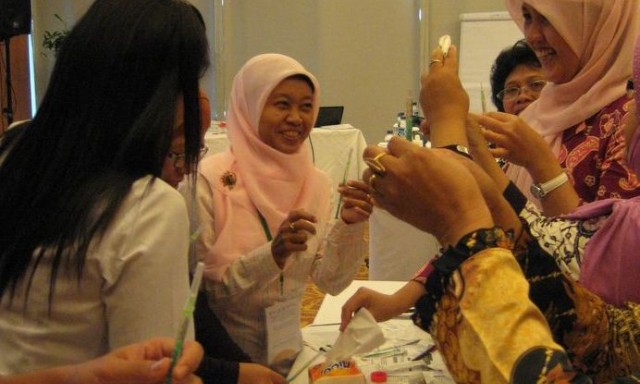 In 2000, world leaders adopted the UN Millennium Development Goals (MDGs), eight quantifiable targets aimed at meeting the needs of the world's poorest by 2015. Three of the Goals are related to ending malnutrition: eliminate extreme poverty and hunger (MDG1), reduce child mortality (MDG4) and improve maternal health (MDG5). Recent innovations in food fortification are helping us to do just that.
Fortifying our food
Vitamin A, iron and iodine are essential components of a healthy diet. These are nutrients often lacking in sufficient amounts in the developing world. Micronutrient deficiencies are especially devastating to women and children, dramatically stunting their physical and mental development as well as increasing their risk of becoming ill and dying.
For years, the addition of micronutrients to staple foods and condiments—known as food fortification—has helped to deliver these essential vitamins to the malnourished. While food fortification is cost-effective, scalable and can be effective in both industrialised and developing nations, we have had trouble measuring its impact. Part of the problem is that as food moves along the value chain, for example, during transportation or in-home preparation, it can lose some, even all, of its added nutritional value. Knowing where nutritional loss occurs, or whether food has been properly fortified in the first place, is therefore, essential. In the past, measuring vitamin A, iron and iodine content required sophisticated, expensive lab equipment operated by expert technicians.
Seeking to simplify and improve nutrient measurement, German technology firm BioAnalyt embarked on a partnership with the Global Alliance for Improved Nutrition (GAIN), a Geneva-based non-profit alliance that supports the provision of fortified foods to some 667 million people worldwide. The partnership resulted in the creation of a portable, low-cost and easy-to-use test kit that offers precise and instant micronutrient measurements. Most importantly, the kit enables the tracking of micronutrient content from factory to fork.
Measuring success
The impact of the partnership is best explained by looking at a case study. In 2009, GAIN – which has established or strengthened over 25 national food fortification programmes – worked with the Indonesian Nutrition Foundation for Food Fortification (KFI) to scale up a successful KFI pilot project in Makassar and Sulawesi. The pilot project sought to address the extremely high number of Indonesians who suffer from vitamin A deficiency, a staggering 80 million or so. As nearly all households in the target areas used vegetable oil on a daily basis, KFI fortified vegetable oil with vitamin A. The results were impressive: vitamin A deficiency decreased by 32% in those regions. With GAIN's help, KFI was not only able to expand its work but also to support the creation of a mandatory national fortification standard.
After the new test kits were introduced in 2011, vegetable oil producers were able to analyse the fortified oil – some 2.2m tonnes, reaching about 240 million Indonesians – for adequate amounts of micronutrients. The kits have also been used by the National Food Monitoring System, run by the Agency for Drug and Food Control, and to monitor the impact of the KFI project – hitherto a notoriously difficult exercise.
Innovations like these help to move the world closer to achieving the MDGs by making it easier for development projects to measure their impact and to readjust their work accordingly. Our vision, therefore, is for every project aiming to combat malnutrition through food fortification to have access to low-cost, easy-to-use, and highly accurate test kits.
Dr. Simone K. Frey and Prof. Dr. F. J. Schweigert work for BioAnalyt, based in Germany. Greg S. Garrett and Vincent Jallier, work for Global Alliance for improved Nutrition, based in Switzerland.