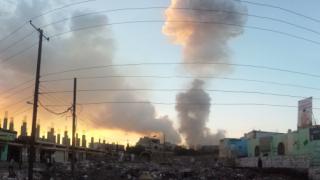 As the conflict in Yemen enters its fifth year, the fallout is staggering. The situation in Yemen is the world's worst humanitarian crisis with over 10 million people on the brink of starvation. It is estimated that since the UN-brokered ceasefire in December, eight Yemeni children are still killed or injured every day.  
UN reports show that the majority of civilian deaths and casualties in conflict situations are caused by Saudi-led coalition airstrikes. Despite this, the UK Government continues to support the Saudi-led coalition politically, but also materially, through the export of significant quantities of lethal weaponry.
Since the conflict began in 2015 and the pattern of civilian fallout quickly emerged, UNA-UK has consistently campaigned for a suspension of arms exports to all parties to the conflict. The practice of putting arms exports above human rights makes the UK complicit in violations of international humanitarian law and undermines the rules-based international system, including the Arms Trade Treaty, upon which the UK's own security and prosperity depends. It also directly contradicts the advice of the United Nations, puts the UK at odds with a growing number of countries who have restricted exports and disregards the advice of cross-party parliamentary committees and five UK opposition parties.
Take action for Yemen
UNA-UK has joined forces with advocacy and humanitarian organisations to campaign together to reduce the suffering in Yemen. 
Please call on your MP to represent your concerns in parliament - everything you need can be found on the following link:
Take Action for Yemen this month 
As a permanent member of the UN Security Council and the 'lead' country on Yemen, the world is looking to Britain to stand up for a people suffering.  Please show your solidarity by campaigning with us on this issue
Read more