You are here: Yemen can't wait - campaign with UNA-UK
26 March 2018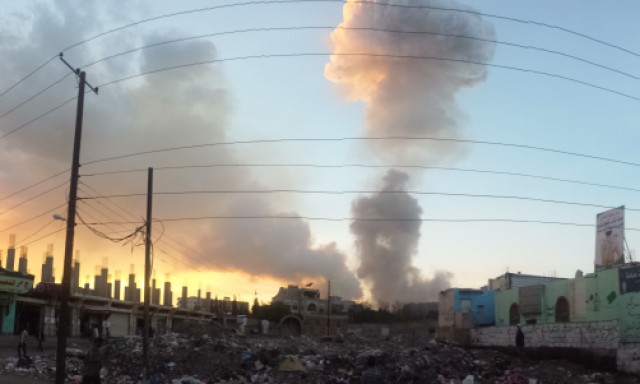 According to the UN, "Yemen, as a State, has all but ceased to exist".
Yemen is the world's largest humanitarian disaster. As the conflict enters its fourth year, over a million people have contracted cholera and eight times that number are on the brink of famine.
With 80 per cent of the population needing humanitarian assistance, UNICEF Yemen has said: "There seems to be no hope".
But there is hope, and it centres on UK action.
On the Security Council, the UK is the 'lead' country for Yemen. It also has close bilateral relations with Saudi Arabia - the country is leading military action against Yemen's Houthi rebels and that is, according to the UN, responsible for the majority of civilian deaths.
The UK must build support for a new Security Council resolution demanding a ceasefire, and use its influence with Saudi Arabia to press them to adhere to it.
UNA-UK is deeply concerned by the lack of progress at the Security Council, which has adopted just one substantive resolution on the situation. We are also dismayed that the UK has licenced almost £5bn of arms exports to Saudi Arabia since they intervened in Yemen and that it continues to do so today.
The UK holds a lot of sway on this issue, and it's not doing enough. If MPs urge the Government to act, they have to listen. Please help:
There are also opportunities for activists to take local initiatives to the next level and connect with other campaigners. Take action first, then follow the next steps to get involved.
UNA-UK's recommendations
Security Council action for ceasefire and peace process with no preconditions - As Council lead on Yemen, the UK should urgently table a new resolution calling for all parties to the Yemen conflict to immediately implement a ceasefire and enter into peace talks without preconditions
Bilateral efforts with Saudi Arabia for peace - UK should use its close relationship with Saudi Arabia to urge them to support a ceasefire, enter into peace talks without preconditions and refrain from any actions which may restrict humanitarian or commercial supplies to Yemen
Suspension of arms sales to Saudi Arabia - The UK should not be arming any of the parties to this conflict, all of whom are responsible for "widespread violations of international humanitarian law" according to the UN, with the Saudi-led coalition responsible for the majority of civilian casualties. The UK should immediately suspend arms exports to Saudi Arabia and support an independent international inquiry into violations by all parties to the conflict.
Campaign push
To support local action, UNA-UK joined forces with national and international organisations to urge the UK's ambassador to the UN to act urgently on Yemen.
On 24 March, UNA-UK's Executive Director, Natalie Samarasinghe, spoke on the issue on BBC Radio Scotland (listen from 1:38:00).
UNA-UK has also released several recent blogs and articles on this issue:
Image: Airstrike in Sana'a, Yemen, 11 May 2015. Credit: Ibrahem Qasim (CC BY-SA 4.0)