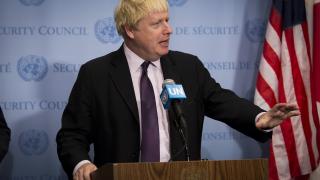 UNA-UK welcomes comments by Foreign Secretary Boris Johnson signalling that the UK may consider further action on limiting the use of the veto at the UN Security Council in cases of mass atrocities, specifically by supporting a proposal put forward by France on this issue.
Such a move would build on a commitment made by the UK last year to adhere to a "code of conduct" developed by the Accountability, Coherence and Transparency (ACT) Group under which UN member states, including UN Security Council's five permanent members (P5), voluntarily agree not to prevent action on issues relating to war crimes, crimes against humanity, or genocide.
The French proposal goes a step further by explicitly stating that the P5 should refrain, again voluntarily, from using their veto in cases of mass atrocities, although it permits them resorting to their veto when "vital interests" are at stake. 
Johnson was asked about the French proposal in Parliament on 11 October by Hilary Benn MP. He replied:
"We are in constant touch with our French colleagues about this proposal.  As I said earlier, I am personally very attracted to the idea of holding these people to account before the International Criminal Court, so that is certainly something that I would like to pursue."
Mr Johnson's comments were made in relation to a possible future Security Council referral of Syria's President Assad to the International Criminal Court (ICC) - a matter which has not be pursued in earnest due to the likelihood of a veto by Russia and potentially other permanent members of the Council.
The use of the veto by permanent members of the Security Council is seen as major barrier to effective action in Syria, and the failure by UN member states to uphold the "Responsibility to Protect" (R2P) doctrine – the norm universally agreed in 2005 which requires the international community to act to prevent atrocity crimes.
UNA-UK has campaigned on Syria, R2P and veto restraint for many years. In addition to numerous calls on the UK Foreign Office to review its stance on the veto, UNA-UK produced a Parliamentary Briefing in collaboration with Protection Approaches which cites veto restraint and the Responsibility to Protect as key aspects of a responsible Syria policy. Released last year, it remains painfully relevant today.
Read UNA-UK's updated briefing: 'UN Security Council and the Responsibility to Protect: Voluntary restraint of the veto in situations of mass atrocity'
Read UNA-UK's Parliamentary Briefing, "'Deeper engagement, greater responsibility' Civilian Protection in Syria"
Image: Boris Johnson at the UN, UN Photo/Laura Jarriel