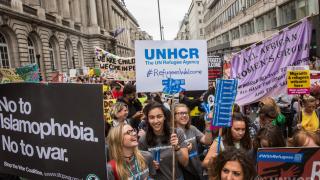 UNA-UK has asked our members and supporters to help stand up for the rights of refugees, by contacting their MPs and urging them to oppose the Nationality & Borders Bill.

The controversial Nationality and Borders Bill - dubbed by some as the "Anti Refugee Bill" - is currently in the final stages of passing through parliament. 
According to the UN Human Rights Chief, the Bill contains elements that contravene the 1951 Refugee Convention and would undermine the human rights of refugees. As currently drafted, the legislation will criminalise those who enter the UK by irregular means in contravention of international law and standards. It will create a two-tier system which treats asylum seekers differently depending on how they arrive in the UK in violation of the right of each person to an individual assessment of their own protection needs. At the same time, existing safe routes are being reduced and no long-term commitment is being made to ensure refugees are provided with routes to safety. 
Amid widespread calls for the UK Government to change course, on 4 April the House of Lords once again rejected several of the bill's most controversial provisions. UNA-UK welcomes the role played by peers with respect to this Bill, including amendments to bring it into compliance with the 1951 Refugee Convention. The Bill has now been sent back to the House of Commons for consideration on 20 April, where MPs will have to decide what to do about the 12 defeats suffered by the Government in the House of Lords. 
Over the last month the world has witnessed the heartbreaking human suffering caused by Russia's invasion of Ukraine. Almost a quarter of Ukraine's population has been displaced, with more than 4 million people having fled the country. The British public has demonstrated immense generosity and compassion in supporting those fleeing the terrors of conflict and seeking safety in our country. Yet the UK Government is seeking to introduce legislation which would punish refugees, like those from Ukraine, for making their own way to the UK in search of safety. 
With little time left for legislative business in this parliamentary session, UNA-UK urges MPs to take this opportunity to change course and accept the House of Lords' amendments. 
Take action on the Nationality and Borders Bill  
As the UK condemns Russia's illegal invasion and its breaches of international humanitarian law, it is more vital than ever that the UK upholds its own international obligations and stands up for human rights to protect the world's most vulnerable people. 
People fleeing the terrors of conflict should be treated with kindness and compassion, not like criminals. Demonstrations of public opinion were successful in influencing the Government to change its inadequate response to the Ukrainian refugee crisis, and have clearly bolstered the significant opposition seen this week in the House of Lords. You can now help us stand up for all refugees.
Three ways you can help:
Write to your MP urging them to oppose the Nationality & Borders Bill via this quick link:

Ask Your MP to Stand Up for Refugee Rights
Call your MPs constituency office expressing your wish for them to oppose the Nationality

and

 Borders Bill.

Find your local MP contact details here
Encourage others to stand up for refugee rights by

sharing this video

on social media
Read more:
Photo: 2016 Refugees Welcome march in London on Saturday 17 September. UNHCR/Andrew McConnell  ©