You are here: UNA-UK urges Government to recognise the importance of the United Nations
19 October 2015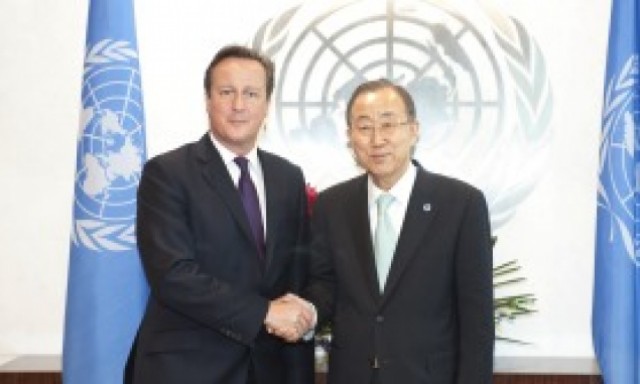 UNA-UK has pushed for greater UK recognition of the importance of an effective United Nations to Britain's security and prosperity. The recommendations will feed into a major Government exercise that will decide Britain's approach to peace and security issues over the next five years.
Last conducted in 2010, the National Security Strategy (NSS) and Strategic Defence and Security Review (SDSR) will assess the risks and threats the UK faces and how best to counter them. On the 70th anniversary of the UN, UNA-UK wants to take this opportunity to highlight the United Nations' transformative impact on the world, from promoting dialogue between adversaries to creating a stable international system.
UNA-UK's submission seeks to demonstrate that robust international institutions are in the national interest. It underscores the need for the UK to invest more energy in the UN and UN initiatives, and to step up Britain's contribution to tackling global problems. It also outlines three concrete ways in which the UK could do this: through strengthening UN peace operations; improving UK capacity to prevent atrocity crimes; and bolstering multilateral nuclear disarmament efforts. 
In a rare consultation, the Cabinet Office invited members of the public to share their own views on this issue. Alongside UNA-UK's own submission, we have been encouraging our supporters to take part in this consultation, which will end on 23 October 2015.  Extracts of some of our favourite submissions have been reproduced below.
In the lead up to the NSS and SDSR, UNA-UK has also written to the Prime Minister and the Secretaries of State for Defence, Foreign & Commonwealth Affairs and International Development - and their shadow counterparts - urging the UK to develop a coherent strategy for reinforcing the effectiveness of the UN system. Click here to read the response from International Development Secretary Justine Greening.
The Government has not indicated that there will be a formal response to the consultation but UNA-UK will be contacting the Cabinet Office to acertain how submissions are being considered. The publication of the NSS and the SDSR is expected by the end of the year. 
Here's what UNA-UK supporters said to the Government through the consultation:
Click here to make your own submission to this important consultation 
Photo credit: UN Photo/Kim Haughton
More on Keeping Britain global, Peacekeeping