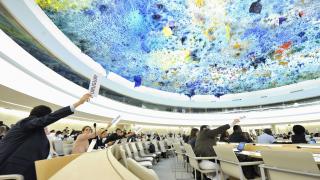 Earlier this year saw the start of the second cycle of the Universal Periodic Review (UPR) at the UN Human Rights Council. As one of the first states to be reviewed in 2008, the UK faced its second UPR in May.
The UK delegation, led by Lord McNally, Minister of State for the Ministry of Justice, presented its national report and responded to questions by 60 delegations, from which there were a total of 132 recommendations for the working group report.
In response to this, UNA-UK has submitted for the general consideration of the Joint Committee on Human Rights a submission on 'Follow-up to the UK's Universal Periodic Review by the UN Human Rights Council in 2012'. We have also shared this with the Human Rights and Democracy Department at the Foreign & Commonwealth Office. UNA-UK called for a response from the Committee as to how it intends to monitor implementation of the UK's 2012 UPR and its plans for engagement with the UPR process on an ongoing basis.
On 7 December 2012, Dr Hywel Francis MP, Chair of the Joint Committee, responded to UNA-UK's submission providing suggestions for parliamentary oversight of this process. For further information and to read the response, please see below or click here.
UNA-UK will continue to follow-up on the UK's UPR implementation throughout the year.