You are here: UNA-UK statement on the election of Donald Trump as President of the USA
10 November 2016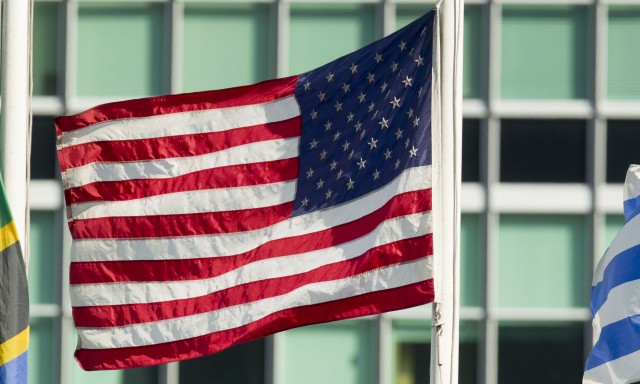 On 8 November, it was announced that Donald Trump will be the next President of the United States. He will lead a country that was pivotal to the founding of the United Nations in 1945, and which remains crucial to its success today.
As a UN-focussed, UK-based charity, UNA-UK did not take a position on the US Presidential Election. We exist to support the principles and objectives set out in the UN Charter:
As such, we hope that the United States will remain engaged with the United Nations and take seriously its responsibilities towards upholding the rules-based international order that has brought stability and prosperity to its citizens, and – crucially – towards making this system work better, for those within its borders and around the world who have been left behind. Such leadership at a critical time in global affairs would truly make America great again.
We recognise that Mr Trump is yet to set out a clear policy vision for US engagement with the United Nations. We also realise that campaigning is markedly different from governing. We therefore believe it is too early to pre-empt what a Trump White House may or may not do.
However, we are concerned by certain indications he has given, notably the comment that "we get nothing out of the United Nations. They don't respect us, they don't do what we want, and yet we fund them disproportionately", and promises to "cancel" the Paris Agreement on climate change.
The United Nations has been recognised by successive Republican and Democrat administrations as an important partner for the US. It delivers a great deal for the American people, both practically and in terms of building a more secure world. The organisation is at its most effective when big powers, including the US, work together to produce global solutions, such as the Paris Agreement. It – and people across the world – suffer when they don't.
We also remain deeply concerned by the tone of the election campaign, which saw Mr Trump make several statements, particularly on race and gender, that run counter to our principles – principles such as equality and human rights, which are enshrined in the UN Charter and shared by the United States. While we trust that Mr Trump will build on his acceptance speech and distance himself from these statements, we feel it is important not to forget the damaging assertions that were made and to place on record our rejection of them.
We hope that the US and UK will work together to strengthen the United Nations. The special relationship between the two countries is based on shared values, such as international cooperation and the rule of law – both of which are sorely needed in these uncertain times. It is precisely at times like these that the UN shows its greatest value.
The UN provides a framework for countries to solve their problems peacefully. It sets laws and norms that protect the poorest and vulnerable in our societies. It helps to build more stable and prosperous states. It gives smaller nations a voice alongside bigger ones and allows for shared responsibility in tackling problems that affect us all, ensuring that no one country has unchallenged dominion in global affairs and that no one country need bear the burden of maintaining international peace alone.
As we said in our submission to the House of Lords International Relations Committee, the UN remains an essential global institution, and our work to strengthen it is now more important than ever.
Our 1 for 7 Billion campaign ensured the appointment of a new Secretary-General with a mandate and momentum to broker meaningful dialogue within the Security Council. Our "I stand for" campaign seeks to give people across the country a voice in shaping Britain's role in the world. And with Keeping Britain Global, we are calling on the UK to take concrete steps to support the UN at this turbulent time.
Mr Trump was elected in part because of dissatisfaction with the current economic and political system and its representatives, anxiety arising from shifting global power and social norms, and the hope that things can be different. Some parallels can be drawn with the time of the foundation of the UN, when, after two devastating world wars, the Organisation  was created in response to similar anxieties and hopes.
This is a trend that is manifesting itself in many parts of the world, and it will require all of us to think, work and reach out to people in different ways. At the same time, we must not ignore the ugly strain of intolerance that sits alongside genuine concerns – both of which are present across all strands of the social spectrum.
One of the few things that can be said with certainty is that the principles of the UN Charter remain as relevant today as they were at that time. UNA-UK remains committed to those principles, and to supporting, reforming, and encouraging the international institutions established to promote them. 
Image: Flags of Member States Flying at UN Headquarters: United States, UN Photo/Loey Felipe
More on -US foreign policy, Global leadership, Global solutions, Keeping Britain global, Stand For campaign, Human rights