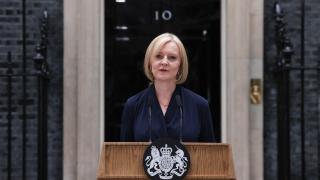 Prime Minister Liz Truss assumes office at an immensely challenging time for Britain and the international community. The escalating global economic, energy and food crises, the rise in violent conflict across the world, the ongoing recovery from the COVID-19 pandemic, and the climate emergency all require global solutions.
As the new Prime Minister sets out her government's priorities, UNA-UK hopes the emphasis will be on sustained, multilateral collaboration to address the challenges we face in a spirit of solidarity. Russia's illegal war has sent shockwaves throughout the world and Ms Truss has rightly made clear her intention to continue the UK's strong support for Ukraine. It is important however, that other crises presenting devastating humanitarian challenges, such as the recent floods in Pakistan or the looming famine in the Horn of Africa, are not overlooked. The UK urgently needs to expand its vision for its role on the world stage, moving beyond a piecemeal crisis response towards a more joined-up approach with global cooperation at its core.
Ms Truss started her ministerial career in 2012, holding a number of cabinet roles since then, most recently as Foreign Secretary. During this period, developments in UK legislation and policies have drawn concern from UN figures including:
However, we are encouraged by Ms Truss's words as Foreign Secretary when she spoke powerfully of the UK becoming a more outward-focused nation, investing in diplomacy, building new partnerships and supporting the principle of a global rules-based system. She said: "We won't lecture others, instead we will lead by example". We hope the Prime Minister will use the highest position in Government to proceed on this basis, with humility, and sensitivity to our international obligations and our commitment to human rights.
Moving forward, the UK must assert itself as a trustworthy partner with a global outlook and a positive role promoting and upholding international law, human rights and sustainable development. It can earn its position as an influential partner by investing intellectual, political and financial capital in initiatives to strengthen the UN system.
Alongside UK generated ideas, the UK should use its platform to support and champion the ideas of others. In this regard, we welcome the UK's recent support for Lichtenstein's Veto Initiative as a co-sponsor, and pleased to note that Ms Truss has declared atrocity prevention a matter of national interest. 
We hope part of the UK's reform agenda will include a commitment to make the UN more open and accountable to the people it serves. We welcome the UK's support for civil society at the UN and hope this becomes a pillar of their future foreign policy agenda and that recent concerns  represent an isolated misstep. We look forward to working collaboratively towards these goals - which remain a priority for UNA-UK.
The upcoming UN General Assembly "high level" week provides an opportunity for Ms Truss to set out her vision for Britain's role on the world stage and to advance this agenda. UNA-UK hopes to see concrete plans for the UK to build on the legacy of COP26 during the global week for climate action, as well as a reassessment of its international development plans, starting with a commitment to unfreeze aid spending. Following the publication of the UN High Commissioner's report on Xinjiang, we also hope to see the UK set out its support for an independent investigation and wider measures necessary to seek accountability for China's actions during the current 51 session of the Human Rights Council.
UNA-UK stands ready to work in good faith with the UK's new leadership and continue to make the case for a values-driven Britain, delivering a future for people in the UK and the wider world that is safer, fairer and more sustainable.
Photo: Prime Minister Liz Truss Arrives in Downing Street. Credit: Number 10.