You are here: UNA-UK signs open letter on the Police, Crime, Sentencing and Courts Bill
13 September 2021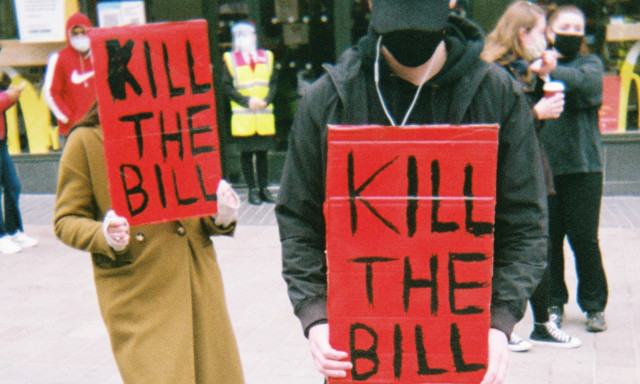 UNA-UK joined organisations across the UK in signing an open letter on the Police, Crime, Sentencing and Courts Bill, after three UN Special Rapporteurs raised concerns about its impact on human rights. Read the letter below.
To the Home Secretary and the Secretary of State for Justice,
We write to share our urgent concern over the Police, Crime, Sentencing and Courts Bill which is soon to be debated in the House of Lords.
This Bill will have a profound impact on the right to protest, constitutes a direct threat to Gypsy and Traveller communities and includes a host of expansive policing and sentencing powers that will further entrench racial disparity in the criminal justice system.
During the second reading debate, parliamentarians from across the political spectrum raised concerns about parts 3 and 4 of the Bill. Many said that they expected the controversial aspects of it to be properly scrutinised and improved during Committee Stage. However, the sections of the Bill which restrict protest, criminalise trespass and expand policing powers have emerged from Committee entirely unamended.
At the same time, we have seen:
Parliament's Joint Committee on Human Rights state the Bill's proposals are "oppressive and wrong" and the Equality and Human Rights Commission has stated the measures undermine human rights legislation
Former senior police officers describe the Bill as "harmful to democracy".
Over 700 legal academics call for the Bill to be dropped.
Three UN Special Rapporteurs, and top human rights officials warn that the Bill threatens our rights.
Over 600,000 members of the public sign petition against the Bill
Polling showing that nearly two thirds of the public are concerned about a crackdown on their protest rights.
Government has so far failed to seriously engage with public concerns, criticism of the bill from a wide section of society and its claim to be committed to upholding freedom of speech and assembly has been contradicted by numerous experts.
Civil society groups previously highlighted the lack of time parliamentarians were given to read and understand the Bill, with less than a week between publication and second reading. It was disappointing to see that for Report Stage of the Bill, MPs were given only two and a half hours to debate and then vote once again on over 300 pages of proposals. This is deeply inadequate and prevents MPs from properly debating and scrutinising policies that will have a severe impact on the rights, liberties and freedoms of their constituents.
This Bill continues to represent an attack on some of the most fundamental rights of citizens, in particular those from marginalised communities.
We urge the government to fundamentally rethink its approach.
Read more
Photo: A man holding a red placard reading 'Kill the Bill' in protest against the Police Bill. Taken in Leicester city centre. Credit: Pierre Marshall