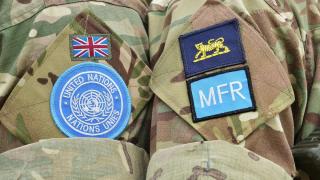 The UK Government has committed to strengthening engagement with UN peace operations in a strategic document that sets out Britain's security and defence priorities for the next five years.
In its newly released National Security Strategy and Strategic Defence and Security Review (NSS/SDSR), the Government states that:
Peacekeeping is one of the UN's most important roles. The UK will continue to champion reform to increase the efficiency and impact of UN engagement. We will double the number of military personnel that we contribute to UN peacekeeping operations. We will also increase UK law enforcement and civilian experts on UN peace operations and in UN headquarters, we will continue to train international peacekeepers. We will form a cross-Whitehall UN peacekeeping policy unit to maximise our military and civilian impact. 
The Government had announced in September that it would be doubling the UK's troop contribution to UN peace operations by supporting missions in South Sudan and Somalia.
The announcement of the creation of a new UN Peacekeeping Unit to bring together Foreign & Commonwealth Office (FCO) and Ministry of Defence (MOD) expertise is especially welcome. 
UNA-UK has led a major campaign to encourage the UK to do more on UN peacekeeping over the past year. In the lead up to the publication of the NSS/SDSR, the Association sent letters to the Prime Minister, Secretaries of State for Defence, Foreign & Commonwealth Affairs and Development, and their opposition counterparts, making recommendations for inclusion in the UK's vision of national security. We also coordinated submissions from our members and supporters on what the UK should prioritise in its defence and security policy.
UNA-UK's Chairman, Sir Jeremy Greenstock, has written to the Foreign Secretary, the Rt Hon Philip Hammond MP, to express UNA-UK's appreciation for the UK's increased commitment to UN peace operations and to offer UNA-UK's support in the establishment and work of the new UN Peacekeeping Unit.