You are here: UNA-UK makes case for global citizenship to parliamentary committee
8 November 2017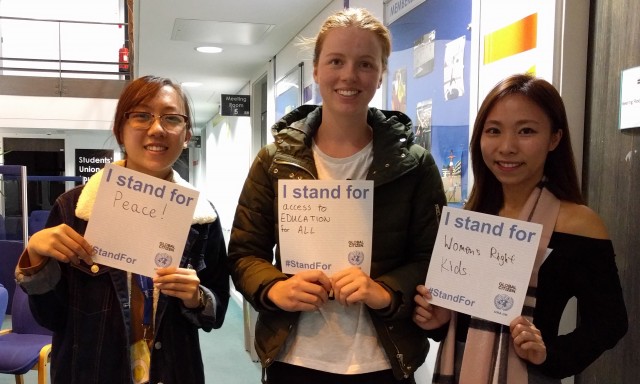 In response to a parliamentary inquiry into citizenship in the 21st century, UNA-UK has argued that global values resonate strongly with individuals' sense of identity and that greater emphasis should be placed on education that will strengthen global citizenship in the UK.
Many of the challenges we face in Britain are common to all countries. Climate change, international terrorism, the threat from nuclear weapons. Part of UNA-UK's core mission is to encourage individuals to think and act globally because it is only through working together - both within and across societies and countries - that these challenges can be overcome.  
Awareness of global issues and other cultures is essential if we are to equip UK citizens for this mission.  To this end, UNA-UK continues to campaign for more opportunities for school children to learn about international affairs and the work of the United Nations.  
Extract from UNA-UK's evidence:
"Citizenship in the 21st century does not stop at our borders. We can no longer say what happens "over there" does not affect us. Challenges such as climate change do not respect borders and require international cooperation. The same can be said of traditionally domestic issues like employment, thanks to our global supply chain. Today, a civil war can have consequences far beyond the country's shores, by fostering extremism and organised crime, by forcing people to flee their homes, or by disrupting economic production in the surrounding region. Disasters like floods can affect people across the globe, through food shortages and price hikes for instance. 
Identity is a question of personal choice. Many of our supporters see the label "global citizen" as empowering and unifying when raising their voices on global issues or seeking support for causes they hold dear. The concept of global citizenship is important because it acknowledges our shared responsibility to address challenges in our increasingly interconnected world."
This submission builds on UNA-UK's #StandFor campaign which revealed that British citizens have global values but that they do not necessarily expect the UK Government to reflect these values on the world stage. Deeper public engagement on foreign policy issues would help overcome this mismatch and build awareness of the ways in which a global approach is in the UK national interest.
UNA-UK's evidence to the Committee on Citizenship and Civic Engagement
UNA-UK's successful campaign to retain teaching about the United Nations in schools