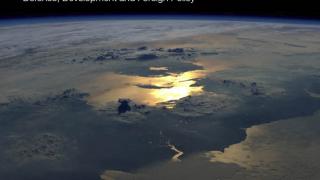 On 16 March 2021 the government published its Integrated Review of security, defence, development and foreign policy. The Review was billed as the largest of its kind since the end of the Cold War and presented a timely opportunity for the United Kingdom to consider the totality of global opportunities and challenges it faces. 
While UNA-UK welcomes the continued commitment to being an outward facing values-driven nation, the strong support for international cooperation and human rights outlined in the Review, as well as the announcement that climate change and biodiversity loss will be the UK's foremost international priority, we have concerns regarding the strategy's approach to global rules and norms.
Lord Stewart Wood, Chair of UNA-UK, said:
There is much in the Integrated Review to welcome and many things to worry about. As the review itself notes, 'Global Britain' in practice is best defined by actions rather than words. If the consequence of this strategy is that the UK is more consistent and principled in practice then that will strengthen the country and strengthen our global system. If not, then it won't just be the strategy that fails.
We have long argued that the biggest issue UK foreign policy currently faces is the perception of an inconsistency in approach. In this regard we welcome the greater emphasis the Integrated Review places on cross Government working and ensuring a join up between domestic and international commitments. 
In our submissions to this process UNA-UK made the case for the UK to utilise our international system as the best form of security and influence available in our multipolar and increasingly interconnected world. We therefore welcome the UK's ongoing commitment to multilateral organisations. 
While there is much to welcome, there remains a number of areas of unreconciled tension, including between human rights and enhanced trade, and between support for global rules and standards and the desire to be a "disruptor". There are also areas of grave concern, most notably on nuclear weapons. 
UNA-UK is appalled by the Integrated Review's approach to nuclear weapons, which threatens to substantively undermine the strategy as a whole. By abandoning the commitment to reduce warhead stockpiles to 180 and instead introducing a new dramatically higher 260 warhead cap, the UK is, according to the UN Secretary-General, acting "contrary to its obligations under Article VI of the NPT" in a move which could have a "damaging impact on global stability and efforts to pursue a world free of nuclear weapons".
Read ICAN UK's initial response here.
Photo: Cover of the Integrated Review, titled Global Britain in a competitive age - The Integrated Review of Security, Defence, Development and Foreign Policy. Image: summer sun over the UK. Credit: Tim Peake/ESA/NASA