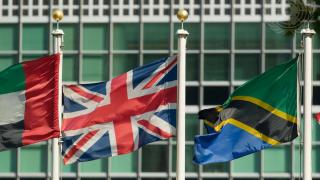 On 25 March 2021, UNA-UK and Lord Collins of Highbury, Labour Spokesperson for International Development, hosted a panel exploring how the UK can help build a more effective United Nations. 
The discussion contributed to the Labour Party's ongoing review of the UK at the UN, focused on the UN's legitimacy, relevancy and effectiveness.
Natalie Samarasinghe, Executive Director of UNA-UK, Sara Pantuliano, Chief Executive of the Overseas Development Institute, and Allana O'Malley, Chair of UN Studies in Peace and Justice at Leiden University, discussed the selection and role of the UN Secretary-General, senior appointments, and the resourcing of the UN. 
Natalie Samarasinghe stressed that UN appointments matter, amid calls for the UN to strengthen political will and encourage good leadership. Discussing the ongoing UNSG selection process, she called for civil society to be given greater involvement in identifying candidates and bringing them to the fore. In conjunction, Allana O'Malley raised key issues that must be addressed during the 2021 selection process, including the lack of diversity in candidates. She called for candidates to carry out more public campaigns, stressing:
"The relevance of the UN will only endure if leadership campaigns are public."
Following on, Sara Pantuliano urged the UK to build on improvements achieved in the 2015 Secretary-General selection process, particularly to ensure states agree on a rigorous selection criteria, calling for a commitment from all candidates and states to rule out closed-door deals.
Discussing whether single longer terms would strengthen the role of the UNSG, Natalie Samarasinghe highlighted the opportunity to free the post from the politics which comes with seeking reelection. Alanna O'Malley called for a longer single term, arguing that Secretaries-General are often more effective in their later years. This could provide space for innovation, good use of the UN Charter, and opportunities to boost the UN's effectiveness. 
Over the past decade 20% of roles at Under-Secretary-General or above have gone to nationals of the Permanent UN Security Council Members (P5). Highlighting the open letter to PM Boris Johnson calling for an end to national ring fencing, Natalie Samarasinghe pointed out that the UK has an opportunity to use its influence for good, by encouraging merit-based appointments, and being a champion of a consistent process. 
Ms O'Malley noted that while the UK is consistently a high funder and pays its dues to the UN on time, it is inconsistent in its approach - with its humanitarian budget a fraction of its arms funding. Additionally, Ms Samarasinghe proposed that the UK prioritise funding where interventions would make the most difference, such as in girls' education, climate action, and preparedness, and stressed the need to strengthen financing and rethink aid with a focus on outcomes.
In closing, the panel underlined the value of inputs from the public and civil society, and urged the UK to prioritise the UNSG selection process and not treat it as a foregone conclusion.
Read more:
Photo: The flag of the United Kingdom of Great Britain and Northern Ireland (centre) flying at United Nations headquarters in New York. Credit: UN Photo