You are here: UNA-UK announces details for UN Day 2020
14 October 2020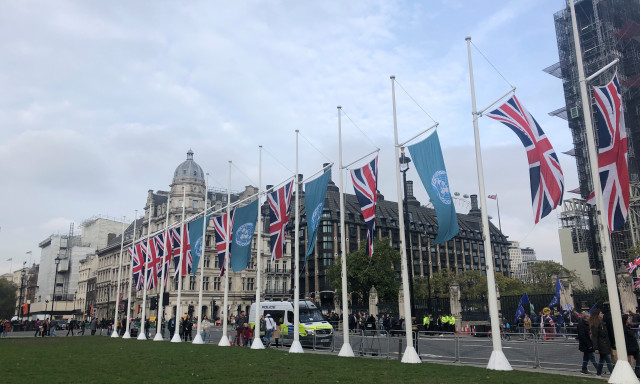 UNA-UK is delighted to announce the details of our first-ever virtual UN Day.
The future we want, the UN we need?
Saturday, 24 October 2020, 17:15 to 19:00 BST 
This year, the United Nations turns 75 - as it grapples with some of the biggest challenges in its history: from COVID-19 to the climate crisis, rising big power tensions and soaring inequality. What role can - and should -  the UN play at a time when global cooperation is needed more than ever, but nationalism is on the rise and public trust in institutions is sinking? 
 
Can the UN reinvent itself after 75 years?
Chaired by Natalie Samarasinghe, Chief of Strategy, United Nations 75th Anniversary team (on sabbatical from her role as Executive Director of UNA-UK), this session will begin with messages from the United Nations and UK Government, followed by the presentation of the Sir Brian Urquhart Award for Distinguished Service to the UN, and a high-level panel discussion on the future of the UN.  
UNA-UK Brian Urquhart Award
UNA-UK is delighted to present the 2020 Sir Brian Urquhart Award for Distinguished Service to the UN to Zeinab Badawi. A journalist and economist, Zeinab is renowned for her work with BBC World News and her nine-part series History of Africa in collaboration with UNESCO. As a long-standing advocate for a more open, inclusive and effective UN, she has done much to bring the UN to a wider audience through her interviews and broadcasts. Her wider work includes promoting women's education, inclusion and diversity, and the crucial role of the Global South in shaping international institutions and the international community.
We are thrilled that Zeinab will be joining us at the virtual event to accept the award!
Panel discussion on: The future we want, the UN we need
H.E. Maria Fernanda Espinosa, President of the 73rd Session of the UN General Assembly and former Foreign Minister of Ecuador
Lord (Mark) Malloch-Brown, UN Deputy Secretary-General under Kofi Annan and former UK Minister for Africa, Asia and the United Nations
Nisreen Elsaim, Member of the UN's Secretary-General's Youth Advisory Group on Climate Change and Chair of the Sudan Youth Organization on Climate Change
Mandeep Tiwana, Chief Programmes Officer, CIVICUS: World Alliance for Citizen Participation
The panel will be moderated by Ahmad Fawzi, former Communications Advisor and Chief Spokesman for the United Nations High Commisioner for Refugees.
UN75 Festival
This session is part of the UN75 festival (18-24 October) organised by Peace Child International and UNA London & Southeast Region - visit their website to find out more.
Register
The event is free and open to all. Click here to register.